What Are the Different Types of English Desserts?
Also known as pudding or afters, dessert is a very popular dish in England. As such, there are many different types of English desserts. There are, however, certain types that are quintessentially and iconically English, including puddings, tarts, sponge cakes, and perhaps the most famous English dessert of all, trifle.
Although pudding can refer to any type of English dessert, a pudding also consists of a dessert where various ingredients are combined with eggs, sugar, and flour and steamed. This produces a rich, fluffy concoction that is usually served with a sauce. One of the most well-known of these puddings is spotted dick, made with raisins, currants, and suet, and served with a custard sauce. Another popular version is sticky toffee pudding, combining dates and brown sugar and drenched in a rich toffee sauce.
Tarts are also very popular English desserts and are made from a shallow, short-crust pastry shell filled with various ingredients and baked. A very popular example of this is the custard tart filled with a yellow egg custard made with sugar, vanilla, and cream and dusted with nutmeg. This tart also provides the base for the Manchester tart, another popular variation that begins with a layer of jam onto which a thick layer of egg custard is poured. The tart is then topped with desiccated coconut and often a maraschino cherry. Perhaps the most iconic tart is the bakewell, a tart that consists of a jam bottom, a thick almond filling, and a topping of either white icing and a maraschino cherry or flaked almonds.
Sponge cakes are English desserts that are similar to American cakes, though they are somewhat lighter and drier in texture. A yeast-less cake, sponge is made in a similar way as American cake, baking together sugar, flour, and eggs. Vanilla is the most popular flavor, although chocolate, lemon, or strawberry sponges are also available. Victoria sponge is a very well known and traditional form, typically made using a base of sponge cake to which layers of jam and fresh cream are applied. A second layer of sponge is added, and the whole cake is dusted with icing or castor sugar.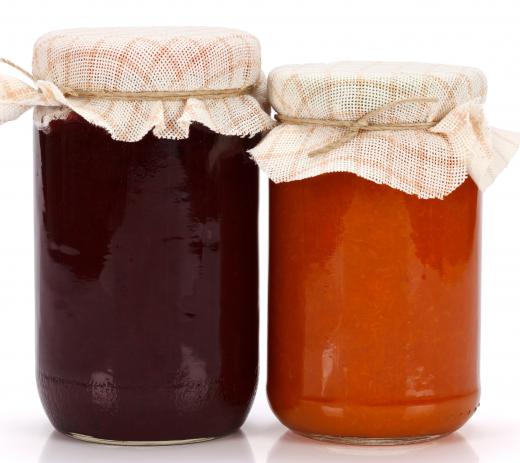 Finally, the trifle is perhaps the most quintessential of English desserts. Trifle is composed of layers of sherry-soaked sponge cake, custard, and fruit, along with liberal dollops fresh cream. Fruit-flavored gelatin is also a common addition. Although enjoyed all year, trifle is typically served at Christmas as an alternative to the traditional Christmas pudding.
AS FEATURED ON:
AS FEATURED ON:








By: Christian Jung

Currants are an ingredient in spotted dick, a popular English dessert.

By: keko64

Quintessentially English, trifle in made with sponge cake, custard, fruit, and cream.

By: Szasz-Fabian Erika

English desserts often contain layers of jam.