What Are the Different Types of Mexican Desserts?
The modern nation of Mexico has been influenced by a number of different cultures over the past few hundred years. Each of these cultures has helped shape the types of Mexican desserts commonly found in the country today. Some of the more common desserts include milk- and egg-based dishes, such as flan and fried ice cream, and cakes such as tres leches cake. Bread-based desserts, including churros, empanadas, and pan de muertos are also common. Mexican desserts may also incorporate ingredients that are native to Mexico, such as corn, peppers, and fruits.
Milk-based Mexican desserts are some of the most common and recognizable. Fried ice cream is one of these types of desserts. It is made by wrapping a ball of ice cream in a tortilla and deep frying it until the tortilla becomes crispy. Flan, which is a dessert that was borrowed from the Spanish culture, is also commonly eaten in Mexico. Flan is a type of custard made from milk and eggs and flavored with a variety of different ingredients including flowers, fruits, and nuts.
Cakes are also common types of Mexican desserts. One common Mexican cake is known as tres leches cake and is named for the three types of milk used in the cake. Evaporated milk, condensed milk, and fresh milk or cream are combined and soaked into a cake to make a rich, sweet dessert. Chocolate, vanilla, and corn-flavored cakes are also common Mexican desserts.
Sweetened breads are also commonly eaten for dessert in Mexico. Churros, which are similar to donuts, are made from long pieces of bread dough that are deep fried and then rolled in cinnamon and sugar. Pan de muertos, a dessert commonly eaten on the Day of the Dead, a holiday celebrated in Mexico, is a baked bread that is sweetened with sugar and flavored with cinnamon, sugar, and anise. Empanadas, a common type of Mexican pastry, can be filled with chocolate, custard, or fruit and rolled in sugar.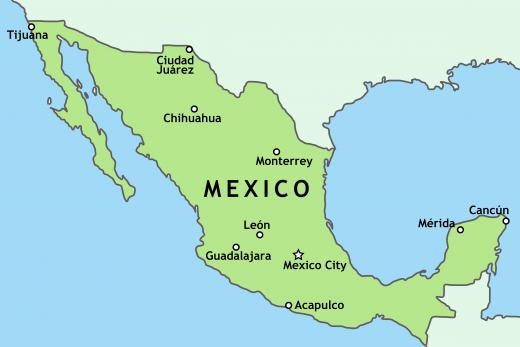 Fruits that are commonly grown in Mexico are also often eaten for dessert. Bananas and plantains are often fried and sweetened as either a simple, low-calorie dessert or to be eaten with sweet pastries or ice cream. Chocolate is also native to Mexico and has been eaten as a traditional sweet treat for hundreds of years. Another native plant, corn, may also be sweetened and made into a pastry.
AS FEATURED ON:
AS FEATURED ON:








By: Jultud

Flan, which is a dish with a custard base, is a popular Mexican dessert.

By: Andrey Kuzmin

Many Mexican desserts have milk as a main ingredient.

By: Tupungato

Traditional Mexican fare is diverse throughout the different regions of Mexico.