What are the Different Types of Tart Apples?
Though there is almost certainly an apple to fit each taste, many prefer the crisp flavor of tart apples. Some people prefer to eat them raw, but they are also a good choice for cooking and baking, and are often used in apple butter and sauces, in pies and tarts, as well as mixed in fruit salads. Some of the best-known varieties include the Granny Smith, Northern Spy, and Braeburn.
Granny Smith is one of the most beloved tart apples in the United States, and is said to be the first green apple introduced into the American market. These apples are thought to be a good combination of tart and sweet. In appearance, they are firm, round, and generally a medium green in hue, but may also bear a pink blush. Though these apples may be eaten raw, many feel that their true flavor potential is only reached upon cooking.
Braeburn and Northern Spy tart apples are a streaked golden red in color, and both have a distinctly sweet flavor underlying the tartness. The Northern Spy is a larger apple that is considered vintage, having been discovered some time in the 1800s. Braeburns are medium-sized apples first discovered around the 1940s.
Other popular types of tart apples include the Golden Delicious, the Blushing Golden, and the Paula Red. Jonagold and Stayman apples are both known for their tart kick. The Jonagolds are generally milder in flavor and tend to be a little sweeter, while Staymans usually have more of a bite.
Some of the lesser-known, but equally flavorful, varieties of tart apples include Rome Beauties, Jonathans, and Newtown Pippins. Winesap apples are a unique type that have a distinctive flavor and scent. Though these are tart apples, they are also said to have a spicy undertone, and bear an odor similar to wine. Because of its strong flavor, the Winesap apple is not well known, as many find it to be overpowering.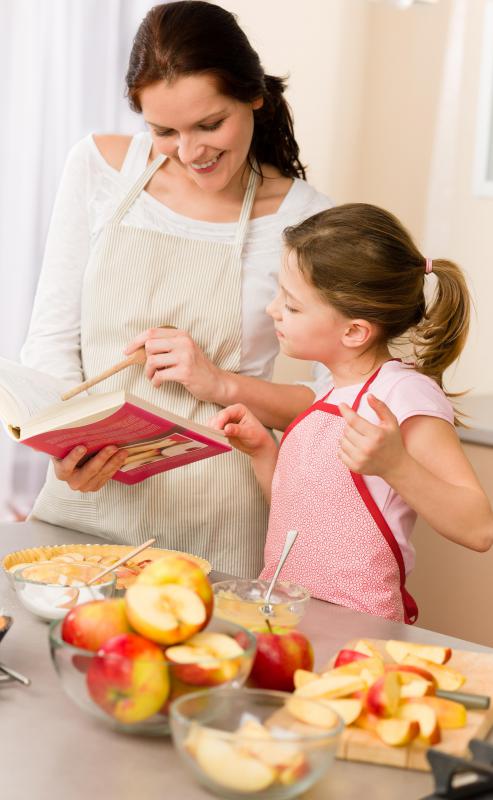 Gravensteins are another lesser known tart apple variety. These fruits are juicy and round with thin, red-green skin, and a flavor that is said to be similar to white wine. The Suncrisp apple is a relatively new type, having only been introduced around 1994, and is said to bear a full, tart flavor that is mildly spicy. These apples are generally yellow with a red blush, giving them an unusual orange hue.
By: Pixelbliss

Apples.

By: xiangdong Li

Granny Smith apples are quite tart.

By: mitrs3

Tart apples are often used to make applesauce.

By: Malyshchyts Viktar

Granny Smith were the first green apples introduced on the American market.

By: CandyBox Images

Tart, red Jonathan apples are often used to make apple pie and other fruit desserts.