What are the Different Types of Whisks?
Despite its seemingly simple and straightforward nature as a kitchen utensil, there are a relatively high number of different types of whisks. Some of the most common types are the ball, balloon, French, flat, beverage, and dough whisk. These different varieties are also available in different materials, such as metal and plastic, and can even include small electronics such as a thermometer in the utensil.
Whisks are kitchen utensils used primarily in stirring or mixing, with the design intended to better allow the incorporation of air into a mixture while mixing. They usually consist of a handle and some type of stiff wires, sticks, or other thin pieces of material with mostly empty space in the middle to allow air into what is being mixed. Ball whisks are usually made with a handle for one hand and several long wires, each with a small ball at the tip of the wire. This type is often used for eggs, sauces, and other fairly thin mixtures that need to be beaten quickly to become aerated.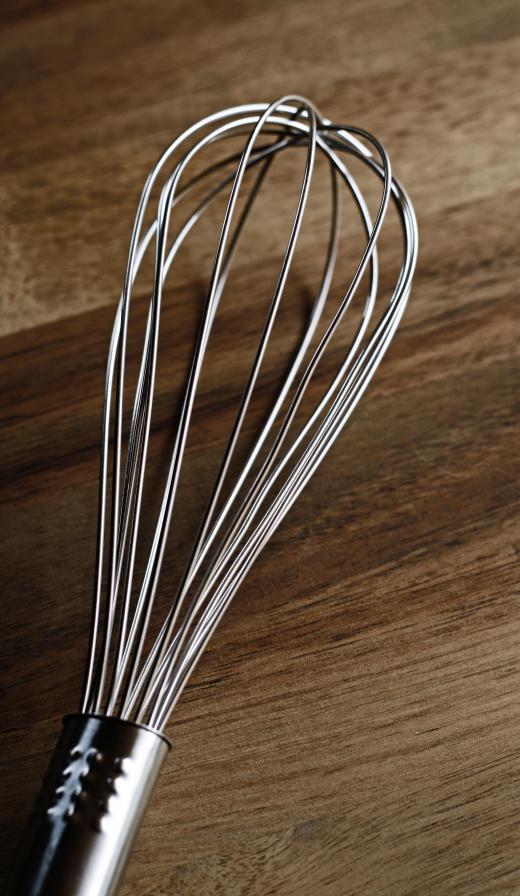 A balloon whisk is made of numerous stiff wires that extend together from a handle, and then form a sphere at the end. The appearance is somewhat similar to a balloon on a string, or a large wire lollipop. There are even double balloon varieties that include a second wire sphere within the first larger one. An oval balloon whisk is similarly designed, but rather than a large round end, the entire shape is extended as an oval from the handle.
French whisks are similar to the oval balloon design, except they are typically narrower with a tighter oval shape. A flat whisk is designed to be more two-dimensional in shape, making it flatter and often better for reaching the corners of pots or pans during cooking. Beverage whisks are designed especially for use in stirring beverages in a glass or similar container. They have long thin handles, with a small sphere of wire at the tip, allowing someone to reach the bottom of a glass and easily stir the contents.
A dough whisk is made with a fairly long, durable handle for greater stability while working with dough. The wires used are stiff and often stronger to better deal with the heavier materials used in dough preparation. They are often made from stainless steel or hard rubber or plastic. Some of them include thermal sensors built into the end with a display in the handle, allowing temperatures to be monitored while making custards or sauces sensitive to temperature changes.
AS FEATURED ON:
AS FEATURED ON:








By: Seite23

A typical balloon whisk used for a variety of mixing.

By: texturis

French whisks are designed to reach the corners of pots or pans during cooking.

By: Lucky Dragon USA

Beverage whisks are designed specifically for stirring beverages.