What Are the Different Types of Yogurt Spoons?
There are many types of yogurt spoons. Some are designed specifically for use with yogurt and yogurt products, while others may be regular spoons made for use with a number of products. Many types are small in size because yogurt is often sold in single-serving sized containers and a small spoon slides more easily into the container.
Some yogurt spoons are made out of plastic. Companies that produce yogurt sometimes attach a spoon to each single-serving package of yogurt. Manufacturers generally include spoons for ease of use by the consumer because, if eating on the run, a person may not have a spoon available. Yogurt spoons that are attached to packages of yogurt are usually disposable.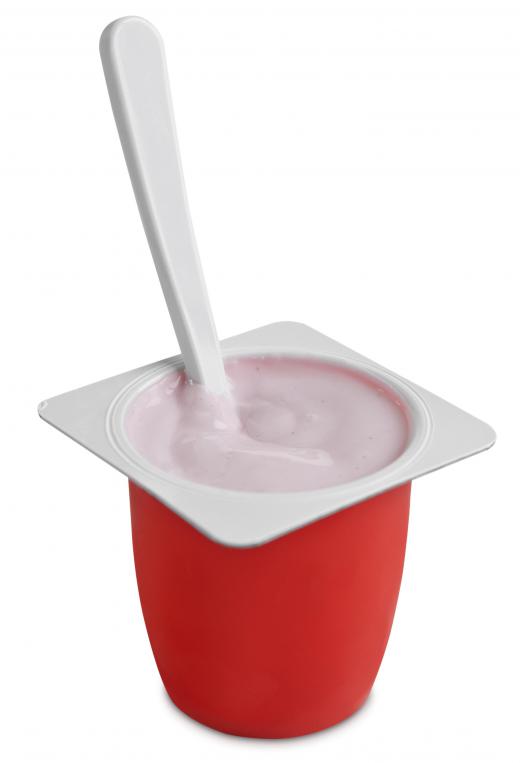 Small plastic spoons for yogurt are also commonly used by babies, toddlers, and other children. When feeding yogurt to a baby or small child, the person feeding the child often will employ a small plastic spoon to reduce the risk of injury and provide a small bite on each spoonful. For the same reason, young children who feed themselves yogurt often are given plastic yogurt spoons.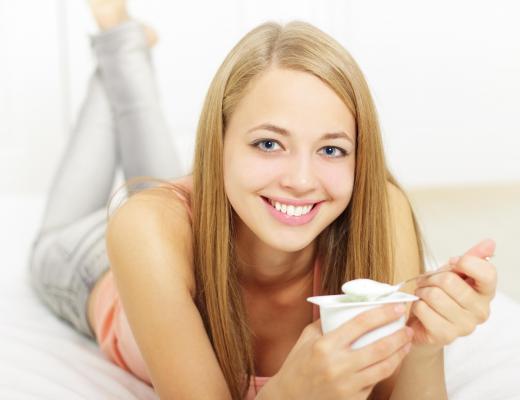 There are spoons that are specially designed for use with yogurt. Some manufacturers have designed yogurt spoons that are made to be used in conjunction with certain kinds of yogurt containers. Many traditionally shaped spoons cannot get all of the yogurt out of the bottom of a container. In an effort to reduce waste and give the consumer access to the final spoonful of yogurt, spoons have been created that effectively can scrape the bottom corners of a yogurt cup.
Some yogurt spoons are not designed as spoons to be specifically used with yogurt but have become popular choices when eating yogurt. Both plastic and metal spoons in a variety of sizes may be used, depending on personal preference and the size of the yogurt container or dish. When cooking with yogurt, an individual may wish to use a large spoon to scoop a larger quantity than normally would be eaten in one bite.
Yogurt spoons are also sold in sets. Some people like to have several yogurt spoons available so that if one is dirty or gets lost, another yogurt spoon will be available. When someone finds a spoon that is the perfect size and shape for yogurt, it can be beneficial to buy a set of that brand and style. Additionally, a yogurt spoon set can be very useful for people who often eat yogurt with their families.
AS FEATURED ON:
AS FEATURED ON:








By: NilsZ

A cup of yogurt with a spoon.

By: Anton Maltsev

Some companies attach a spoon to each single-serving package of yogurt to make it easier for the consumer.