What are Vegetarian Meat Crumbles?
Most shoppers have seen the vegetarian "ground beef" crumbles in the frozen foods or vegetarian sections of the grocery store. The package makes them sound tasty, but what are they and how can they be used? Veggie crumbles are soy protein — textured vegetable protein (TVP). This protein is processed in chunks and then made into smaller nuggets.
Soy protein is high quality and easily digestible for most people. It is also a complete protein and is one of the most versatile of veggie products. TVP is often used as a meat substitute, since its chewy texture makes it "feel" like meat in the mouth. As a ground beef substitute, crumbles have almost no fat, no cholesterol and less than half the calories of an equivalent amount of ground beef. They also do not reduce as ground beef does, meaning that a cook gets the full weight, with none lost to fat.
One great use of crumbles is in spaghetti sauce. A low-fat, low-carb spaghetti sauce can be mixed with them, or the cook can make his or her own. When the sauce is hot, put the pasta water on to boil, and when the water boils, add the frozen or fresh TVP to the sauce. Cook the pasta and the sauce will be ready when the pasta is done. The cook does not have to brown and drain crumbles beforehand or thaw them, saving time. They go right into the sauce frozen, and the sauce thaws them and brings them to optimum temperature.
Try crumbles in sloppy joes. Again, the cook can either use a pre-made sauce or make a sloppy joe sauce. Add them as for spaghetti, cook about seven minutes and spread on toasted buns.
Some Texans might cringe, but TVP is also great in chili. In a large soup pot, put two cans diced or chopped tomatoes with liquid, one can tomato paste, two cans kidney beans, drained, and one chili seasoning packet. Mix well, add additional seasonings to taste, and when hot, add the crumbles.
Another great use for crumbles is in Mexican food, especially tacos. The cook uses a packet of taco seasoning, mixes it with the required water and any desired additional seasonings, and heats it. When the mixture is warmed, the cook adds the TVP and cooks it, stirring frequently, until everything is hot.
TVP is even good in ground beef meal kits, which are often high in fat. Using crumbles cuts the fat content considerably. The cook should follow all instructions for heating the sauce mix and rice or pasta, then allow it to simmer for half the cooking time, covered. When about ten minutes are left on the time, add the crumbles and follow the rest of the directions.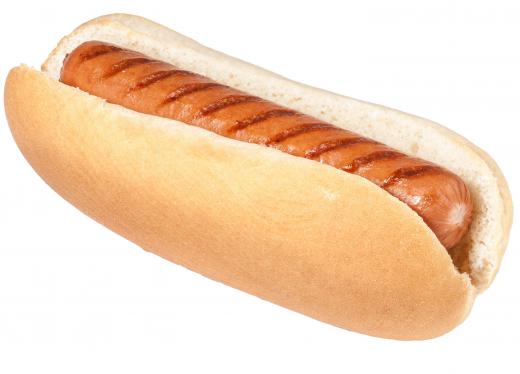 Hamburger is a popular addition to casseroles. TVP can be layered in the casseroles just as hamburger meat would be, and will cook happily with the other ingredients. For cooks who are not vegans, low-sodium beef bullion powder can be added to the dishes to give a more "beefy" flavor.
Crumbles are one of the most versatile veggie products. While they don't make good burgers, they are great for almost anything else using ground beef. Even dedicated meat-eaters will eat them, well-disguised as they are in strongly-flavored dishes, which is where they work best.
AS FEATURED ON:
AS FEATURED ON:








By: Vidady

Vegetarian meat crumbles are made of textured vegetable protein.

By: Joshua Resnick

Vegetarian meat crumbles can be used in tacos.

By: andystjohn

Soya mince is often used as a substitute for ground meat.

By: Springfield Gallery

TVP is commonly used to make food items like vegetarian hot dogs.