Depending on whether it is called a bob, gob, black-and-white, Big Fat Oreo®, or a BFO, many people believe that the whoopie pie is a spectacular sweet treat. This American baked good is a cross between a cake and a cookie, with a little bit of pie filling thrown in. A few areas claim to be the birthplace of whoopie pies, but many people believe that it was the Amish, a religious group in Pennsylvania, that originally made this dessert.
Traditional whoopie pies are made out of two cake-like soft cookies. Sandwiched between these is a fluffy, whipped, white filling. Although chocolate is the traditional flavor for these cookies, flavors such as oatmeal, peanut butter, banana, and pumpkin can also be made. Fluffy chocolate filling sandwiched between two vanilla cookies is often referred to as a reverse whoopie pie.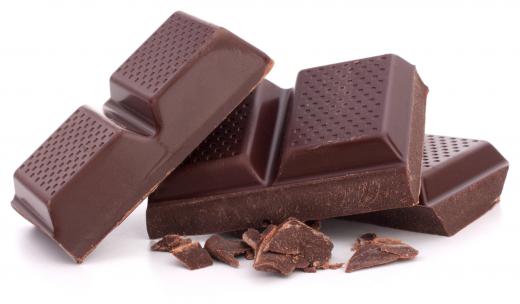 Many bakeries and snack companies make and sell whoopie pies, but a basic whoopie pie recipe can be found online or in some cookbooks. To start, a combination of egg, oil, and sugar is usually beaten until it is smooth. To this mixture, flour, cocoa, and baking soda is mixed in, along with milk and vanilla. This batter is then dropped onto a cookie sheet in thin circles and baked for a few minutes.
Filling for whoopie pies can quickly be made while the cookies are baking. A modern version of this filling is often made out of butter, confectioner's sugar, vanilla, and marshmallow fluff. The Amish recipe for whoopie pie filling, however, does not use marshmallow fluff. It is usually made from egg whites, corn syrup, confectioner's sugar, and vanilla.
Although it is not exactly known where whoopie pies originated, the Amish of Lancaster County, Pennsylvania, are usually credited with this invention. One story tells of the women who baked the pies for their husbands, who, upon opening their lunchboxes and seeing the tasty treat, exclaimed "Whoopie!" Another, and possibly more believable, version of this story tells about the children crying out in joy when they found whoopie pies for lunch.
Lancaster County holds a whoopie pie festival every year. Maine, which claims that this sweet confection originated there, also holds a festival every year in honor of whoopie pie. Other parts of New England also try to lay claim to whoopie pies. Many historians, however, believe that this treat most likely originated sometime during the Great Depression, and the modern version is a hybrid of a number of recipes.
AS FEATURED ON:
AS FEATURED ON:








By: Natika

Chocolate is the traditional flavor used in whoopie pies.

By: Floki Fotos

Although it is not exactly known where whoopie pies originated, the Amish of Lancaster County, Pennsylvania, are usually credited.