What are Yellow Tomatoes?
Yellow tomatoes are tomatoes that have been bred to be yellow, rather than the traditional red. In addition to yellow, it is also possible to find green and purple tomatoes in some markets. Many of these varieties are actually quite ancient, but they were only widely introduced recently, as gardeners and consumers realized that this New World fruit comes in an assortment of colors, shapes, sizes, and even flavors.
The obvious distinguishing feature of a yellow tomato is the color, which may be anywhere from an almost creamy yellow to bright, electric, school bus yellow, depending on the cultivar, the time of year, and when the tomato is harvested. Like their red cousins, they also come in an assortment of sizes, shapes, and flavors, from tiny sweet ones that can be used in salads to big yellow beefsteak tomatoes that are ideal for sauces.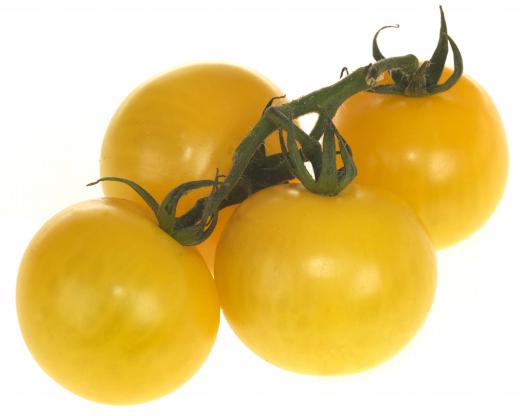 The difference in color is not just superficial. The nutritional profile of these tomatoes is slightly different from that of red ones. Yellow tomatoes have lots of niacin and folate, less vitamin C, and less lycopene than red tomatoes. Perhaps most importantly, they are lower in acid than red tomatoes, and some companies have even developed almost acid-free varieties.
For people who love tomatoes, but suffer when they eat acidic foods, yellow tomatoes can be a good middle ground for salads, pizzas, sauces, and any other dishes where tomatoes may appear. They can be used exactly like red tomatoes, in pretty much any dish, from tomato chutney to ketchup. The lower acid level also allows some of the more naturally sweet flavor of the tomato to come through, which can be an advantage in some dishes.
Some garden stores carry yellow tomato seedlings or seeds, for people who want to grow their own. Growing tomatoes requires a warm spot that gets lots of sun and minimal wind, with loose, well-drained soil. Some people prefer to work in a greenhouse to grow tomatoes, especially if they live in a changeable climate, although the plant can be grown outdoors in the summer in most temperate zones. The plants should be staked for support as they grow, to keep the developing fruit away from the ground where it could rot, and when watering, gardeners should be careful to avoid splashing the leaves and fruit.
AS FEATURED ON:
AS FEATURED ON:








By: martinlee

Yellow tomatoes on a vine.

By: hitdelight

Red tomatoes have higher levels of vitamin C and lycopene than their yellow counterparts.

By: Minerva Studio

Small yellow tomatoes may be included in a salad.

By: monticellllo

Red tomatoes contain higher levels of acid than yellow ones.