What Can I Do with Leftover Rotisserie Chicken?
One of the benefits of buying a rotisserie chicken for dinner is the amount of food that's typically leftover. Depending on the number of people being fed, a single chicken can be stretched to make an additional lunch, dinner or even both. Different types of sandwiches, soups, salads, and pasta dishes, are just some of the things that can be made with leftover rotisserie chicken.
One of the most obvious and healthiest things that can be done with leftover rotisserie chicken is to make a salad. Chicken that's been shredded or cut into bite sized pieces can be placed over salad greens, such spinach, romaine or loose leaf lettuce and tossed with a favorite dressing or vinaigrette. Additional ingredients, such as dried cranberries, walnuts or blue cheese, can also be included to tailor a plain chicken salad to suit individual tastes. Another option involves mixing the chicken with a small amount of mayonnaise to make a chicken salad filling to serve over lettuce.
Leftover rotisserie chicken is also a good ingredient to use in various types of sandwiches. Serve chicken salad filling in a pita or between slices of bread. A quick sandwich option involves placing chicken and cheddar or Swiss cheese on a toasted bun and broiling it in an oven until the cheese melts. Barbecue chicken sandwiches are another fast way to use leftover chicken, and can be made by combining shredded chicken with a favorite barbecue sauce.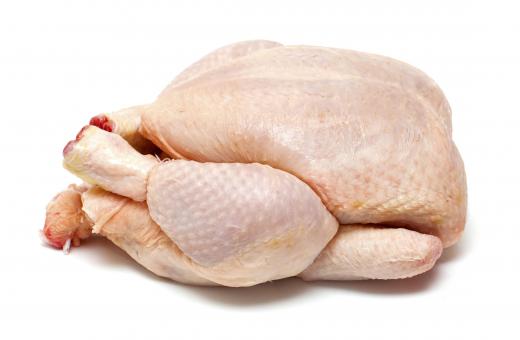 Although the idea of making soup may sound complicated, even a novice in the kitchen can make a delicious one using leftover rotisserie chicken. With egg noodles, chopped carrots, onions, and celery on hand, a person can easily turn their leftover chicken into a hearty chicken noodle soup. Chicken tortilla soup is an alternative soup that is significantly different from traditional chicken noodle. This requires seasonings like chili powder, cumin and cilantro, as well as diced tomatoes, tomato paste and corn tortillas or corn tortilla chips. Both types of soups can easily be prepared using a slow cooker, which also reduces the amount of hands-on cook time.
Pasta and chicken are two food items that are very suited to one another and can be made into a variety of different dishes. Leftover rotisserie chicken that's been stripped from the carcass and cut into pieces can be mixed with almost any type of pasta noodle. Peas, carrots and other vegetables pair well with this combination. Depending on the dish that's being made, pasta and chicken can be mixed with some form of sauce or cheese. Chicken noodle casseroles and pasta salads are just some of the dishes that can be made using leftover chicken and pasta noodles.
AS FEATURED ON:
AS FEATURED ON:








By: Viktor

A rotisserie chicken.

By: Diana Taliun

A chicken before being rotisseried.

By: Tiramisu Studio

Flavorful chicken soup can be made from leftover rotisserie chicken.

By: Louella Folsom

Leftover rotisserie chicken can be shredded and put into a salad.

By: Froggy

Leftover chicken might be added to a casserole.