What Causes Cakes to Fall?
A number of factors during the mixing and baking process can cause cakes to fall. When cakes fall, however, all is not lost. You may be able to salvage part of the cake, or frost the cake creatively so that it can still look attractive. Even professional bakers experience a fallen cake or two now and then, due to subtle differences in air pressure, temperature, or the ingredients used. One of the most important things you can do to prevent falling cakes is to use fresh ingredients and to measure consistently.
Temperature is a major factor. Cakes fall when they are cooked at a temperature which is too low, or too high. The oven should be preheated all the way before inserting the cake pan, and you may want to use an oven thermometer to ensure that the oven is at the proper temperature. It is also important to cook the cake for the recommended amount of time, making adjustments for substituted ingredients, and to avoid jostling the cake while it bakes or cools. Cakes fall as they cool sometimes, so make sure to put the cake in a safe place.
Factors within the ingredients can also make cakes fall. Using insufficient liquid, for example, or not enough oil. An excess of sugar or flour can also create problems with the batter which may lead to falling cake. It is very important to measure properly, tamping down ingredients as needed or sifting as directed. Use clear measuring cups and try placing them at eye level on the counter so that you can see the amount you have measured out clearly.
Cakes fall because of how they are mixed, as well. If the cake is overbeaten, it may fall because of the excess of air trapped in the batter. Underbeaten cakes, on the other hand, may fall because the batter is too dense and is unable to rise. Follow the mixing directions in the cake recipe carefully to reduce this problem. Sometimes the mixing can cause cakes to fall after they mound up in the middle, leading to a large mess. However, when cakes fall like this, you may be able to salvage them as "volcano cakes," especially if you have young children with a penchant for oozing frosting.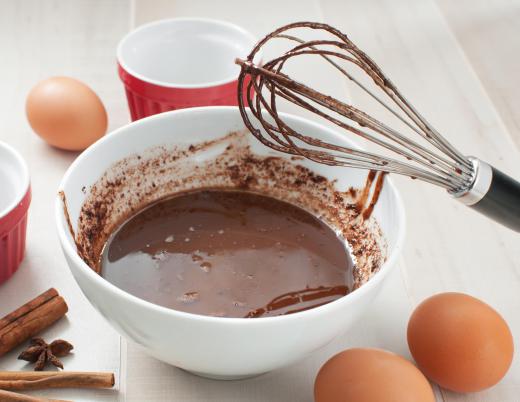 Finally, cakes fall when they are baked at altitude. High altitude baking is a skill which requires some trial and error. Some cookbooks include corrections for altitude baking, and if you live in at a high elevation, you should probably consider acquiring a specialized high altitude baking cookbook. As a general rule, you want to increase the liquid, decrease the sugar, and decrease the amount of baking powder included in a recipe. If your cakes fall frequently when you are baking at altitude, you may want to ask a local baker for tips.
Frequently Asked Questions
What makes cakes fall?
Cakes typically fall owing to a lack of leavening, which is the act of adding air to the batter to cause the cake to rise. If the recipe does not include enough leavening, the cake will not rise properly, resulting in a sunken or collapsed cake.
What can I do to keep my cake from falling?
To prevent a cake from falling, correctly measure the ingredients, thoroughly mix the batter to incorporate air, and avoid opening the oven door during baking. These activities will aid in the rise of the cake and keep it from collapsing.
How can I tell whether my cake is entirely baked?
Insert a toothpick into the center of the cake to see whether it is done baking. If it comes out clean, the cake is done; if it has raw batter on it, it needs to bake longer.
Is it possible to save a collapsed cake?
A collapsed cake can be saved. One method is to slice it into layers, fill them with frosting, and then stack them back together. This will help to hide any flaws and make the cake look respectable.
Does the temperature of a cake affect its structure?
Temperature does have an effect on the structure of a cake. If the oven temperature is too high, the cake may rise too quickly and collapse, and if the oven temperature is too low, the cake may not rise properly and sink. To verify that the oven temperature is accurate, use an oven thermometer.
AS FEATURED ON:
AS FEATURED ON:








By: uckyo

A fallen chocolate cake.

By: Kondor83

Having too much baking powder might make a cake fall.

By: razmarinka

Baking a cake at a high altitude may cause it to fall.

By: uriy solovyov

Proper measuring and sifting are important when baking.

By: Kotangens

Cakes may fall when cooked at a high altitude if proper adjustments are not made to account for the altitude.