Berenklauw refers to a common Dutch street food that consists primarily of meatballs and onions that are fried and served together on a wooden skewer. In English, the item is referred to as a bear's claw. This dish is typically prepared and sold in the Netherlands at snack bars, or outdoor food stands or counters. Snack bars in the Netherlands generally serve quick, inexpensive fried foods and are often located in clusters near heavily populated areas of cities, such as near public transportation stations.
The process of making a berenklauw usually begins with forming ground beef, pork, or other meat into balls and lightly frying the meatballs until they are cooked through. The meatballs may be sliced prior to being skewered, or they may kept whole for a heartier dish. The other main part of the dish consists of slicing onions, and then alternately threading them onto a wooden skewer with the meatballs. Once the skewer is assembled with alternating meatballs and onions, the skewer is dipped into hot oil to fry the meatballs and onion. After the berenklauw is fried, it is often served with a sauce either on the item itself or with the sauce on the side.
The most common sauce that is served with berenklauws tends to be an Indonesian-inspired peanut sauce. Peanut sauce is often associated primarily with satay, an Indonesian and Thai dish consisting of grilled meat that is served on skewers. Since Indonesia was once a colony of the Dutch, many commonly consumed foods in the Netherlands are derived from traditional Indonesian cuisine. Peanut sauce usually is made with peanut butter, soy sauce, red chili paste, and brown sugar, and has a distinctively spicy and sweet flavor.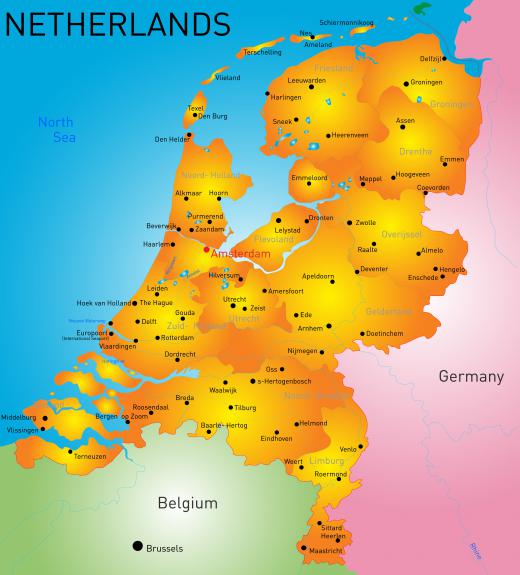 Although peanut sauce is usually the condiment of choice for a berenklauw, an alternative serving sauce is known as zigeunersaus, or gypsy sauce. Gypsy sauce is a tomato-based sauce, made with either fresh tomatoes, tomato paste, or even ketchup. It is primarily flavored with sweet or hot Hungarian paprika, depending on the intended level of spiciness. Gypsy sauce may also contain onions, peppers, garlic, and a sweetener such as brown sugar, honey, or agave nectar, for additional flavor.
Restaurants throughout the world have dishes that are variations on the traditional street food of berenklauw. For example, some cafes may turn the snack into a full meal and serve sandwiches made of sliced meatballs and onions that are covered with peanut sauce to mimic the flavors of the traditional dish. Pubs and other food establishments may also make smaller versions of the fried meatball and onion meatball skewers to serve as appetizers.
AS FEATURED ON:
AS FEATURED ON:








By: Blinztree

The peanut sauce served with berenklauw is thought to be related to the peanut sauce served with satay.

By: Ruslan Olinchuk

Berenklauw is typically prepared and sold in the Netherlands at snack bars, or outdoor food stands or counters.