One of the features of nearly all conventional ovens is the broil feature. Oven broiling is the process of cooking foods, most commonly meats, with direct heat that comes from above. This is best achieved with the use of a broiling pan, or broiler pan, special pans that often come standard with any new oven. It is designed to optimize the preparation of food by oven broiling.
A broiling pan can be of various sizes and comes in two parts. The top part is slotted or perforated to allow fat and grease to drip off the food during cooking, rather than allowing the food to cook in the grease like in a traditional roasting pan. Sometimes called the rack, this top portion rests on top of a drip pan that catches the droppings. To avoid difficult cleaning, both parts can be lined with aluminum foil. Cooks should poke small holes in the top part of the foil to allow the drippings to run off below.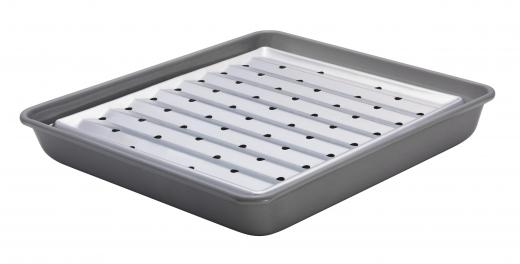 Oven broiling is often preferred as a method of cooking because it is considered a relatively healthy way to prepare meats as part of a low-fat diet. Depending on the cook's preferences, there are many different designs of pans that can be used. Some of the drawbacks to using a broiling pan include baked on grease that can be difficult to clean and excessive smoking from the heated grease. Some people recommend placing a small amount of water in the bottom drip pan prior to broiling to reduce smoking, and some pans are designed to minimize nuisances. Cooks can experiment with different versions to find one that suits their cooking needs.
Meats of all kinds, from turkey to lamb to beef, can be prepared by oven broiling, which is often preferred to grilling. Experimenting with different preparation methods and cooking methods, as well as recipes, will help cooks maximize their experience with oven broiling.
AS FEATURED ON:
AS FEATURED ON:








By: rimglow

Broiling pan.

Lining a broiling pan with aluminum foil can make cleanup easier.

By: Serenethos

A pizza broiling in an oven.

By: Popova Olga

A roasting pan allows the food to cook in its own grease, while a broiling pan keeps the food elevated so that the grease can drip off.