What is a California Roll?
The California roll appears to have been invented in Los Angeles in the 1970s, in response to a general American distaste for eating raw fish. It is a classic example of fusion cuisine, combining a traditional Japanese food with American ingredients for a fresh and unusual flavor. After it took off, numerous other chefs experimented with it, creating regional variations. Within the United States, many establishments which serve sushi offer a variant of the California roll, although it can be a difficult thing to find in Japan, homeland of sushi.
Technically, a California roll is classified as maki-zushi, meaning rolled sushi. It is typically made inside out, so that, in cross section, the roll has a layer of rice, a layer of nori, and then an inner core of fillings. The classic triad of ingredients in a California roll is crab meat, mayonnaise, and avocado. The result is a creamy, rich roll, with a flavor which appeals to many Americans. Other variants use imitation crab, or add cucumber.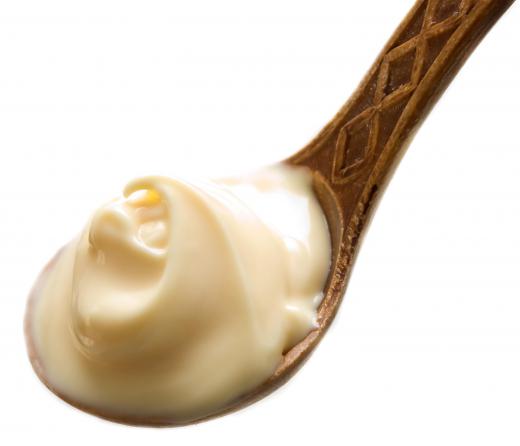 After the roll is made, it is frequently rolled in toasted sesame seeds or fish roe, also known as tobiko. The roll is cut into even bite-sized pieces, which are presented on a platter with garnishes. Often, a California roll is paired with other types of sushi, for a diversity of flavors and textures on the plate.
Making a California roll is relatively easy. To create this sushi dish at home, you will need a sushi mat, a sharp knife, a bowl of water, a bowl of sushi rice, toasted seaweed nori, shredded crab meat, mayonnaise, avocado sliced into strips, and sesame seeds or tobiko to roll the sushi in. To make sushi rice, cook short grained rice and mix it with sugar, rice vinegar, and a pinch of salt. You may also find it helpful to cover the sushi mat with plastic wrap before you start, to keep the rice from sticking to it.
Start by laying a sheet of nori on the sushi mat. Dip your hands in the water and spread a thin layer of rice onto the nori, pressing down lightly so that the rice adheres. Carefully flip the nori over and make a line of ingredients down the middle. Then, starting with the edge nearest you, roll the nori up, tucking the end inside the California roll and firmly pressing to compact the roll once it has been made. Do not, however, press too hard, or the filling will squirt out the ends. Next, roll the sushi in sesame seeds or roe, if desired, and cut it before serving.
AS FEATURED ON:
AS FEATURED ON:








By: Alexandra

A spoonful of mayonnaise, a typical ingredient in a California roll.

By: oriori

Avocado is a popular ingredient used to make a California roll.

By: Natika

Real or imitation crab meat can be used in a California roll.

By: Bartlomiej Nowak

Making a California roll at home requires the use of a sushi mat.

By: juan35mm

The California roll is believed to have been invented in Los Angeles, California.

By: food pictures studio

Some variations of the California roll feature cucumber.