What is a Champagne Glass?
A champagne glass is a glass which has been specifically designed for serving champagne and sparkling wines, drinks which are notoriously finicky. There are several different types of champagne glasses, with most people preferring the flute shape. Most kitchen suppliers sell champagne glasses, and all reputable producers of fine crystal include champagne glasses in their lineups, for people who wish to coordinate their crystal.
Two issues are addressed in the design of the champagne glass. The first is a desire to maintain a consistent temperature, as champagne is traditionally served chilled. This is accomplished by making champagne glasses with stems, allowing people to hold the stem, instead of the bowl of the glass. This places them in a class with other stemware. The second is the desire to maintain carbonation, ensuring that the wine stays carbonated instead of flattening after it has been poured.
The original champagne glass was the champagne coupe. Coupes have medium-length stems and saucer-like bowls, and they were developed in the 1600s. The coupe design looks very interesting, but it has a major drawback: the wide mouth allows carbonation to disperse rapidly. Unless the wine is drunk as soon as it is poured, it rapidly goes flat in a champagne coupe, and this is not desirable.
Flutes are champagne glasses with long stems and long, narrow bowls with sides which curve inward slightly at the top to trap the carbonation. This design is preferred by many connoisseurs of champagne. It is also possible to find tulip glasses, with sides which bulge in the middle, nip in, and then flare out at the top. This type of champagne glass has an interesting profile which some people find appealing.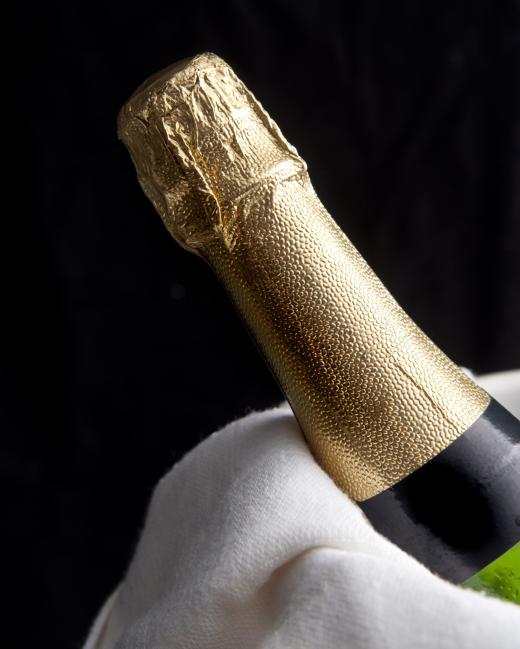 When purchasing a champagne glass, there are a few considerations to think about. The first is whom the glass or set is being purchased for, because some people like to coordinate their glassware, and they would prefer matching pieces. Some people also feel that champagne should be served in clear glass without markings or etchings, so that the development of the bubbles and the color of the wine can be clearly seen, in which case they might not prefer more imaginative glassware designs. Many people also have a preference for the flute, tulip, or coupe style, and if preference is not known, it doesn't hurt to ask.
Non-drinkers also have some uses for champagne glasses. These glasses can be used to serve non-alcoholic carbonated drinks like ciders, and they can also be used for fruit juices. Since non-drinkers sometimes feel out of place at parties where alcohol is served, serving their drinks in champagne glasses can help them blend in a bit more, making them more comfortable than they would with juice glasses in hand.
AS FEATURED ON:
AS FEATURED ON:








By: S.White

Champagne in a glass flute.

By: Igor Normann

Champagne flutes have narrow bowls that curve slightly inward to preserve carbonation.

By: frisotop

Drinking champagne straight from the bottle is not acceptable in most situations.