What is a Clingstone Fruit?
A clingstone fruit is a stone fruit with flesh which adheres to the surface of the pit, sometimes making it difficult to remove. In contrast, a freestone fruit has an easily removed pit, and a semi-clingstone fruit is a hybrid of the two. Many fruit cultivators specifically breed varieties of fruit with free or clingstone characteristics, as there are advantages and disadvantages to each style. In the market, it can be hard to tell the difference between cultivars unless they are clearly labeled.
Before examining the difference between clingstone and freestone fruits, it helps to know what a a stone fruit is in the first place. A stone fruit is any type of fruit with a pit or stone in the middle. Some well known examples are cherries, peaches, and plums. The stone is actually the seed of the fruit, and if allowed to develop naturally, it may produce a new tree. The tree may or may not resemble the parent, which is why most fruit trees are grown through grafting and cuttings, rather than started from seed.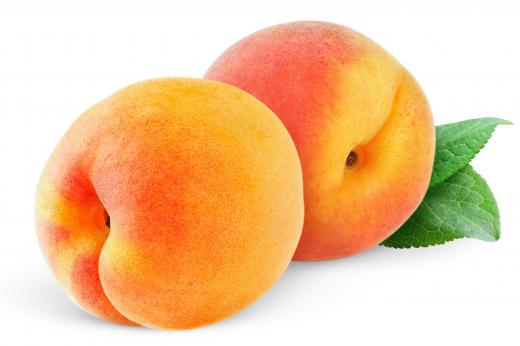 The classic example of a clingstone fruit is the peach. Many readers are undoubtedly familiar with the stubbornly clinging flesh of a clingstone peach. When a peach is being eaten out of hand or sliced for a puree or jam, mangling the fruit to get the pit out is not a big issue. However, when uniform and attractive slices of fruit are needed, the clinging pit can be very frustrating. Fortunately, freestone varieties are available for this very need.
Trees are always clearly marked as freestone or clingstone when they are sold, but this does not help consumers in the marketplace, as they cannot see the parent tree. In the realm of peaches, fortunately, many cultivars are known for bearing either freestone or clingstone fruit. Some common freestone peaches include Redtop, Elegant Lady, O'Henry, Angelus, Bounty, Cresthaven, J.H. Hale, and M.A. White. Many peaches sent to market are freestone fruits, since consumers tend to prefer them, although the flavor of clingstone fruit tends to be more complex than in freestone fruits.
In addition to peaches, numerous other stone fruits come in freestone and clingstone varieties. Plums, apricots, cherries, and nectarines are often available in both configurations. If you are not sure about whether a fruit is a clingstone or not, ask the grocer about it. At a farmers' market, the farmer may also be able to provide additional information about the fruit, such as its history and a flavor profile.
AS FEATURED ON:
AS FEATURED ON:








By: Anna Kucherova

Peaches can be freestone or clingstone fruit.

By: stoleg

There are both clingstone and freestone nectarines varieties.

By: Malyshchyts Viktar

Clingstone fruits include apricots.

By: volff

Plums can be freestone or clingstone fruit.