What Is a Coconut Marshmallow?
A marshmallow is a type of puffy candy with a soft outside and sticky center that is primarily made from gelatin, sugar, and corn syrup. It has a sponge-like texture and is often available in a variety of sizes. Although vanilla tends to be one of the most common flavors used in marshmallow making, coconut is also another widely used variation in both homemade and commercial marshmallows. A coconut marshmallow typically contains dried coconut in the marshmallow batter, and it is often topped with coconut for a crunchy outer coating.
The base of a coconut marshmallow is usually made by combining softened unflavored gelatin with a syrup mixture consisting of water, corn syrup, and sugar that has been boiled together until it is thickened. Unflavored gelatin is a type of protein that is made by boiling animal bone and cartilage and then processing it into a powder. When the gelatin is combined with water, it forms a gel and is responsible for giving the marshmallows their spongy, soft texture, while the syrup mixture adds a sweet flavor.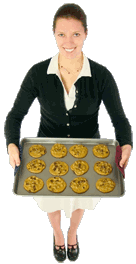 Although any type of sweetened, dried coconut may be used when making a coconut marshmallow recipe, it is often recommended to toast the coconut prior to adding it to the marshmallow base. Coconut may be toasted by either heating it in a pan on the stovetop or baking it until it turns golden brown. Toasted dried coconut may also be available packaged in cans or bags as a baking supply. Fresh coconut is generally not recommended for marshmallows because its texture may be too soft and its flavor tends to be less concentrated.
Coconut marshmallows are usually made by mixing the toasted coconut into the gelatin and syrup marshmallow base. The mixture will typically become firm after setting at room temperature for approximately 12 hours. To add more coconut flavor and a more attractive appearance to the marshmallow recipe, more toasted coconut may be sprinkled onto the top of the coconut marshmallow mixture prior to allowing it to set.
For serving, the coconut marshmallow mixture is generally cut into bite-sized pieces once it has thoroughly dried and become firm. The sides of each marshmallow may be overly sticky, so it is often advised to roll those parts in powdered sugar prior to serving. Coconut marshmallows may be eaten plain as a snack or dessert, or may be used in other dessert recipes either whole or melted. Uneaten marshmallows will usually last for approximately two weeks if stored covered at room temperature.
AS FEATURED ON:
AS FEATURED ON:








Woman baking cookies