A dough cutter is a kitchen utensil often found in professional and home kitchens, which is primarily used in baking. Though there are several different possible designs for this utensil, it typically consists of a handle and a wide "blade" that comes from the handle and can be used to scrape and cut dough. The blade itself is not necessarily sharp, usually the same sharpness as a butter knife, but is thin enough to effectively get under dough and separate it quite effectively. A dough cutter can be made with a wooden or plastic handle that is connected to a metal blade, or it can be a single piece of metal that is rolled at one end to form a handle.
Also called a bench knife or board scraper, a dough cutter is a valuable tool for any baker, since it can be used for a number of different purposes. The basic design consists of a handle that is designed to be held by one hand and a blade that extends from the handle. This blade usually comes from the side of the handle, not the top like most other knives, and is fairly thin. The thinness is intended to allow the edge of the blade to get under dough and separate it more precisely.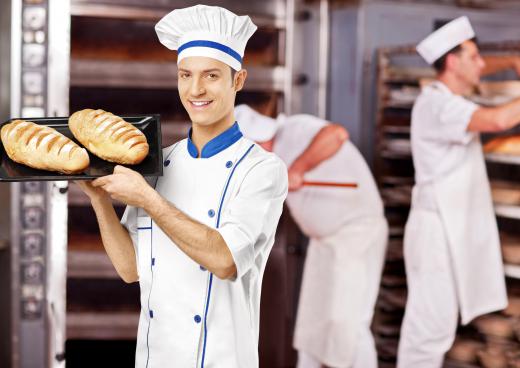 A dough cutter has an edge that is not necessarily sharpened, but due to the thinness of it, the edge can usually cut through dough quite well. This is important for most bakers since the cutter can be used to separate larger loaves into smaller pieces. Division of dough in this way is important for commercial bakers who make large batches of dough and then divide them into smaller loaves, or for home bakers making rolls and similar baked goods.
The thin edge of the cutter also allows it to more easily get under dough that is on a work surface, such as a wooden cutting board or marble countertop. Even with prodigious flouring, dough can sometimes stick to a work surface and be difficult to lift. With a bench knife, a baker can get under the dough and start to lift it more easily. This is also useful for cleanup afterward, since the edge of the dough cutter can be used to scrape sticky bits of dough and flour off a work surface.
AS FEATURED ON:
AS FEATURED ON:








By: Ljupco Smokovski

Dough cutters are used to divide bread dough into loaves.

By: Alex Tihonov

A dough cutter is ideal for cutting through the sticky texture of dough.

By: Greg Brave

A dough cutter can make manipulating dough on a wooden cutting board easier.