What is a Fairchild Tangerine?
A Fairchild tangerine is a variety of tangerine which ripens earlier in the season than many other citrus fruits, making it a popular offering once it reaches the market. Fairchild tangerines are especially common during the holiday season, when many people use them as stocking stuffers and table decorations. Many grocers sell Fairchild tangerines when they are in season in October through January, and they can also be grown at home in warm regions, as long as they are planted out of the wind and protected from the possibility of frost.
The tangerine was bred by crossing Clementine tangerines with Orlando tangelos, combining characteristics of both fruits. In shape, a Fairchild tangerine is roughly oblate, with a deep orange skin which is often pitted and pebbly. The tangerines tend to have relatively thin skins, and they can be somewhat difficult to peel, unlike other tangerine varieties which almost seem to peel themselves. In addition, the Fairchild tangerine is a seeded variety, so people need to use caution when eating the sweet, juicy fruits.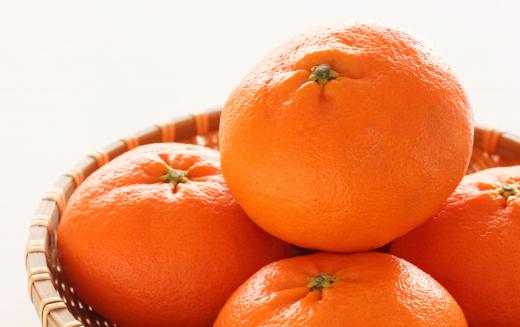 Often, a Fairchild tangerine is sold with the stem and leaves still attached. Chinese consumers believe that the stem and leaves are lucky, and will bring about good fortune and prosperity. In some regions, Chinese people call the fruits "stem and leaves" after the green foliage found attached to them. It is not uncommon to see bags of Fairchild tangerines for sale at Asian markets during the winter months, often at a very low price.
In the United States especially, Fairchild tangerines are very popular. The trees are heavily planted in California and Florida, two major citrus producers, and the fruit is usually readily available during the season. In some areas, Fairchild tangerines are also canned or candied, so that the flavor of the fruit is available year-round. The characteristic pebbled rind of the Fairchild tangerine is often seen in holiday displays in households and businesses of all religious and cultural affiliations.
People who are interested in growing Fairchild tangerines can plant the trees directly in the ground or grow them as container plants. The Fairchild tangerine tree does best in USDA zones nine through 11, and in slightly cooler regions, it should be grown as a container plant so that it can be wheeled inside during inclement weather. Many garden supply stores stock Fairchild tangerine trees, or they can special order trees for customers who want them.
AS FEATURED ON:
AS FEATURED ON:








By: hanabiyori

Fairchild tangerines ripen earlier in the season than many other citrus fruits.