Wonton are a type of savory Chinese dumpling that are usually boiled and served in soup. Fried wonton are a variation of the traditional Chinese version, differing in both ingredients and in cooking method. As the name suggests, fried wonton are cooked by being deep-fried in oil.
Fried wonton are usually served as either an appetizer or a snack. Although not commonly seen in authentic Chinese cuisine, they are very popular in North American Chinese cuisine. Indonesia, Japan, and Australia also have their own popular versions. Although the filling ingredients may differ, all of these versions are deep-fried in oil until golden brown and served hot and crunchy either on their own or with a dipping sauce.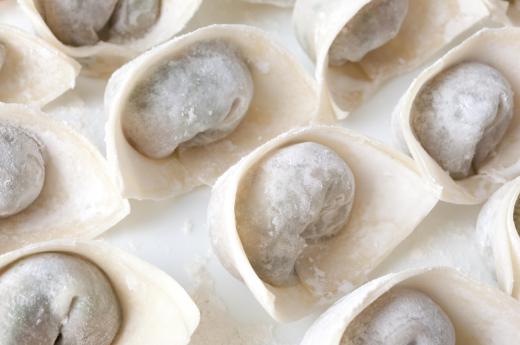 North American Chinese fried wonton has several popular variations. In its most simple form, it consists of just the wonton skins, fried either singularly or with one sheet wadded up and wrapped in another before frying. Another popular form is crab rangoon, where the wonton filling consists of a mixture of crab and cheese.
The third popular North American type is similar to the traditional Chinese wonton in both shape and filling. This mixture combines pork or other meat with spring onion and ginger. Other ingredients used in this type include rice wine, soy sauce, and sesame oil. Vegetarian wonton are also available and contain fillings such as pumpkin or cheese.
Pansit goreng is an Indonesian form of fried wonton. The ingredients for this variation are very similar to the North American pork version, although chicken and prawn are also popular fillings. Other variations of ingredients include the addition of eggs and tapioca flour. The shape of the wonton is also different.
In the North American version, the filling of the wonton is placed in the center of the square skin, then all four sides are brought up and pinched together. This creates a parcel that resembles a drawstring bag. In pansit goreng, the wonton skin is folded in half over the filling into a triangle, then the corners are brought around together and sealed, forming a shape that resembles tortellini pasta.
Japanese fried wonton also vary in shape. This type is formed by placing the filling on one side of the wonton skin then folding the skin in half and sealing it, forming a triangle. The ingredients of this variation are also different and usually include cheese and perilla leaves.
Australians also have their own form of fried wonton, called dim sim. Dim sim contains similar ingredients to the North American and Indonesian forms and also often contains cabbage. The main differences are size and shape. Dim sim are very large compared to other variations and are shaped into either a large ball or a brick-like rectangle. These large portions are wrapped up like parcels in the wonton skins before being fried and served.
AS FEATURED ON:
AS FEATURED ON:








By: Feng Yu

Wonton skins closely resembles pasta before it is cooked.

By: monticellllo

One form of fried wonton called dim sim often contains cabbage.