What Is a Gas Wok Burner?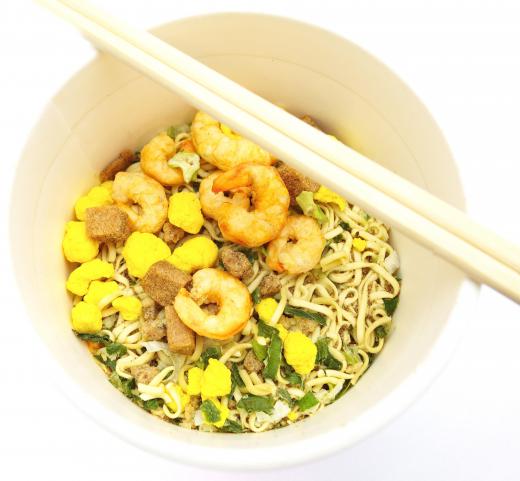 As Asian cuisine has grown in popularity, more people have become interested in making stir-fries and other dishes that require fast, high heat at home rather than getting it in restaurants. Cooking Asian food well requires a gas wok burner. These are high-powered, gas-fueled cooking burners. They come in two main types — stove-top and standalone — and can be identified by their large size, high heat output and the types of food that they are best suited to cooking.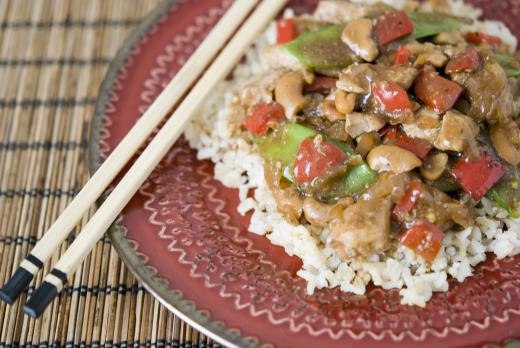 The first identifying feature of a gas wok burner is its large size. A normal home cook-top gas burner is small enough to accommodate a wide variety of cookware, from small saucepans to large stockpots, but a gas wok burner is specifically designed to accommodate the large bottom of wok. Burners for woks come in a variety of sizes, depending on the region. The average in many countries is about 19 inches (48.3 cm) in diameter, and in Asia, they can be even larger.
Gas wok burners also produce larger flames and a higher heat output than standard cook-top gas burners. Some cooking enthusiasts consider watching an expert use a wok burner to be entertaining. In fact, many Asian restaurants position the wok station within the patrons' view. As would be expected with a large flame, wok burners have a higher thermal output than home gas burners — sometimes 10 times as much.
There are two main types of gas wok burners. One is the commercial type, which is almost always built into the cook-tops used in professional kitchens. The other type of gas wok burner has two subtypes: range-based and standalone. Range-based models are built into high-end stoves and are intended for use inside the home. A standalone gas wok burner uses a bottled gas such as propane and is designed for outdoor use.
A final characteristic of a gas wok burner is the specific use for which it is designed. A wok burner produces so much heat that it is not suitable for long, slow-cooking dishes such as soups and stews. This type of burner works best for frying, stir-frying or other tasks that demand quick cooking. Some food enthusiasts who own the outdoor type of wok burner report that it takes a mere three minutes to prepare an entire stir-fry meal. That is why stir-fry recipes usually call for getting all of the preparation work done before cooking begins.


By: torsakarin

Some Asian restaurants situate their gas wok burner so that diners can watch dishes being prepared.

By: Periwinkle Studio

A gas wok burner provides a quick, simple way to prepare stir-fries and other Cantonese dishes.

By: Stepan Popov

Any type of stir-fry dish can be served over nutritious brown rice instead of white.