What is a Honeycrisp Apple?
The honeycrisp apple is a late-season apple grown in many parts of the world that is praised for its consistently crunchy, sweet texture. Though common today in most markets, the honeycrisp is a relatively new variety. It is a cultivar, which means that it is the product of intentional cross-breeding, and it did not become commercially available until the 1990s.
Growing Season and Availability
In most climates, honeycrisps are what is known as "late season" apples. Prime growing season for most apples in the Western Hemisphere is from mid-September to late October, which is usually right at the start of the fall season. Honeycrisps are typically not ripe enough to pick until the first week of November, and can be in season up until — and sometimes just past — the first frost.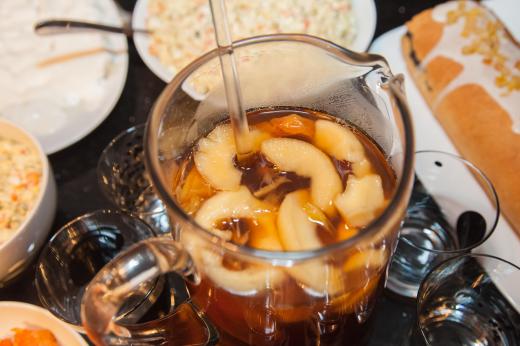 The first farmers to cultivate honeycrisps patented the process, which made it very difficult for other growers to get access to seedlings or established crops. Although the patent expired in 2008, the number of farmers growing honeycrisp apples is nevertheless somewhat small when compared to other varieties. In part this is because of the shorter, later season, but also because of the care and attention trees need in order to produce the very best apples. Honeycrisps typically command a higher price than other varieties as a result.
Cultivar History
Honeycrisp apples are a cross between the Honeygold and the Macoun, two varieties commonly grown in the Northern Midwestern portion of the United States. The honeygold is itself also a cross between a Golden Delicious and a Haralson apple, which in a sense means that the honeycrisp is in fact a unique blend of three different apple varieties.
The first honeycrisps were developed as a part of a sponsored Minnesota apple breeding program. According to most accounts, the first edible cultivars were produced beginning around 1960, but the variety was not introduced to mainstream commercial markets until nearly 30 years later.
Natural Breeding, Not Genetic Modification
Honeycrisp apples are bred and grown through cross-pollination, which is widely regarded as an all-natural process. As such, honeycrisps are not an example of genetic modification. Modern food production often features elements of genetic modification, in which scientists alter the genome of foods in order for them to express certain desirable characteristics.
Just the same, growing a perfect honeycrisp often takes a bit of work. Cross-breeding the Honeygold and Macoun apples usually starts with a pollen transfer between the blooms on each of the trees. This can be done through bees and birds, though larger operations that are counting on precise crop outcomes often elect to do the cross-pollination manually.
Worldwide Growth and Climate Adaptability
Most of the honeycrisp apples grown in the United States are from the Midwestern region, though the cultivar has proved itself adaptable to many different climates. The apple-growing regions of the Northeast and the Pacific Northwest have seen great success with the honeycrisp, as have parts of New Zealand and Northern Europe. Even some desert-climate growers have met with good results.
Common Uses
Honeycrisps are a very adaptable apple. Many people eat them on their own as a snack, either chilled or at room temperature. They also make good additions to salads and cereals, and tend to keep their color longer than many other varieties once cut.
Baking with honeycrisps is also very often successful. Though baking necessarily takes away some of the apple's crunch and bite, honeycrisps are well known for keeping their shape and general consistency, even when exposed to high heats. They are often used in pies, cobblers, and other desserts, and can also be used as an accompaniment to more savory dishes like poultry.
AS FEATURED ON:
AS FEATURED ON:








By: robert lerich

Honeycrisp apples are speckled red with green-gold patches.

By: Melastmohican

Apples may be used to make kompot.