A jelly server is a piece of flatware which is designed to be used in serving jellies and aspics. These utensils can also be used to serve cakes and pies, if desired. While jelly servers are a bit obscure, most silverware companies do continue to produce them, and they can be ordered to match a variety of silverware patterns. It is also possible to find numerous examples of jelly servers in antique stores, with and without coordinating flatware.
A jelly server has a deeply flattened bowl which is designed to wedge out a slice of jelly without allowing it to slide off the server. The shape of the jelly server is typically similar to that of a curved leaf, with one side often being slightly sharpened to allow people to cut through the jelly with the edge of the server. You may find jelly servers paired with aspic spoons, spoons designed to be used to eat aspic which look like miniature versions of a full-sized jelly server.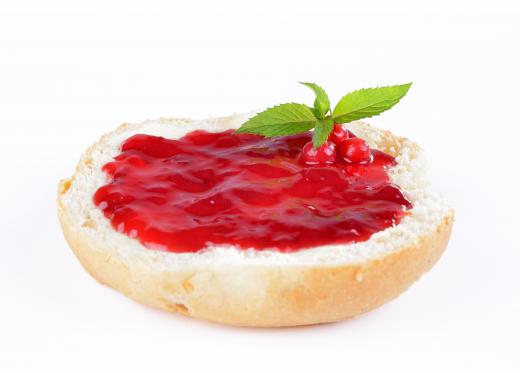 Jelly courses are not as frequent in formal dining as they once were, although they do still crop up occasionally. However, a jelly server can be used to serve things other than jellies, including a variety of cakes and sweet breads. Some people also use these utensils to serve jellied garnishes like cranberry sauce, and of course a jelly server pairs especially well with layer cakes which have layers of dense jelly or jam.
A fine jelly server will typically be made from silver, to coordinate with the rest of a fine flatware set. As with other silver utensils, silver jelly servers require special care to ensure that they stay clean and free of tarnish. After washing silver, you should always hand dry to it to eliminate the risk of spots, and it is also a good idea to set a day aside each year for the purpose of polishing all of your silver, to ensure that your flatware stays uniformly polished; more frequently used pieces should be polished more often.
It is also possible to find jelly servers made from other materials, to coordinate with more modern flatware sets or as standalone items. Many of these materials can be run through the dishwasher and treated with less care than silver, which can be an advantage for a busy household. In all cases, make sure that you know the marks of your silverware pattern well, so that when you bring silverware to formal parties and dinners, you can be confident that you will get it back at the end of the event.
AS FEATURED ON:
AS FEATURED ON:








By: kab-vision

Jelly on a biscuit.

By: angorius

Jelly servers are often paired with aspic spoons.