A main entree is essentially the same thing as a main course served at dinner or during another large meal with multiple courses. On its own, however, the term "entree" can either refer to the main dish or to a dish that precedes the main dish, depending on whether the speaker is using American English, British English, or French. The entree came to mean the main dish in American English due to centuries of evolving food trends. Main entrees originally consisted of meat dishes, but modern day menus can also include salads and other meatless options.
The term "entrée" originated in France around 1555. It came from a term meaning "entrance," and the entrée was served with great fanfare at the very start of a meal with many courses. Within the following century, though, the order of an extravagant French meal changed. The entrée, a dish usually consisting of hot beef, pork, or lamb, was served after the soup and hors d'oeuvres but before the main or final course.
English use of the term "entree" dates back to the late 1750s. By the 1800s, both British and American usage of the term referred to the third course of a meal, coming after the soup and fish but before the main course, like it did on the French menu. This course usually consisted of a some type of beef, pork, or lamb in the English usage, as well.
After World War I, formal meal arrangements changed. Meals in general included fewer extravagant meat courses than in the past. In American English, the entree claimed its current place as the main or final course, donning the title "main entree" in the process. Chicken and fish became entree options, along with the standard beef, pork, and lamb options of the past. In French and British English, however, "entree" or "entrée" continues to refer to a light course, consisting of eggs or fish, served near the beginning of a meal and before the main course.
For formal and semi-formal dining, a main entree includes both a main dish and one or more side dishes. The main dish typically consists of some meat, poultry, or fish, while the side dish can include a grain or starch — such as potatoes, rice, or noodles — along with a cooked vegetable or fruit. A single dish main entree combines the meat, vegetable, and grain usually served separately into one dish. Restaurants might offer lasagna, spaghetti, or many other Italian-style pasta dishes as main entree options. Less formal restaurants and semi-formal to casual dinner parties may also offer stir-fries, hearty stews, and large dinner salads as main entrees.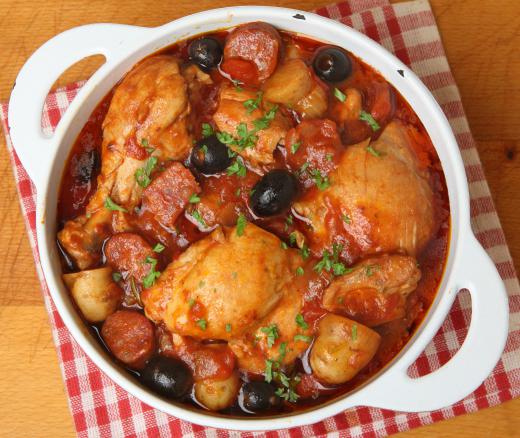 As vegetarian and vegan lifestyles become more common, many restaurants and dinner hosts offer a greater selection of meatless main entrees. Some vegetarian entrees are meatless versions of dishes that would typically contain meat, such as dinner salads with no meat and stir-fries that substitute tofu in place of chicken, beef, or pork. Other dishes that are naturally meatless, such as eggplant parmesan, can also qualify as vegetarian main entrees.
AS FEATURED ON:
AS FEATURED ON:








By: HandmadePictures

Lasagna is always a good crowd pleaser. .

By: vvoe

Stew may be served as a main entree.

By: Joe Gough

Chicken cacciatore is a well-known Italian entree often served over pasta.

By: MSPhotographic

Pasta shells stuffed with cheese, sausage meat or vegetables is a popular main entree.

By: charlottelake

Vegetarian lentil loaf can be served with traditional meatloaf side dishes, like mashed potatoes and green beans, as a main entree.