A martini is a cocktail featuring a chilled blend of gin or vodka and a hint of either sweet red or dry white vermouth. Original recipes called for a 2:1 ratio of gin to vermouth, but that proved to be too unpopular with drinkers who preferred the astringent and sharp taste of gin to the sweetness or dryness of a wine-based product like Italian vermouth. Refinements to the recipe led to at least a 5:1 ratio, all the way to a 15:1 ratio for some enthusiasts.
There are several different accounts of the true origin of the cocktail. Some claim the drink was named after an earlier concoction called a Martinez, while others suggest the drink was named after a bartender named Martinez who popularized the cocktail during the late 19th century. It is also possible the drink got its name from one half of the popular Italian vermouth producers, Martini and Rossi.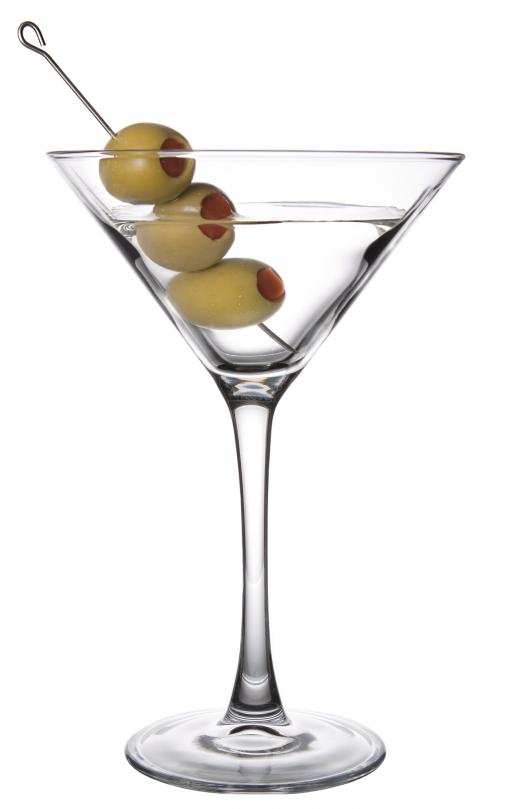 A traditional gin martini is either stirred with a splash of vermouth or shaken with vermouth and ice in a special beverage shaker. The bartender strains out the ice and pours the chilled gin and vermouth into a distinctively conical glass. At this point, an olive or twist of lemon peel may be added for additional flavor.
Some drinkers find the taste of gin to be too astringent or dry for their personal taste. The essential flavor of gin is the berry of a evergreen plant called juniper. A small amount of sweet red or dry white vermouth is added to a traditional gin martini in order to counteract this inherent tartness, but sometimes the sweetness or "wetness" of the vermouth can prevent some of the more subtle flavors of gin to come out. This is why some drinkers ask for a very "dry" martini, meaning a minimal amount of vermouth should be added.
Because straight gin can be a bit harsh for new drinkers to handle, vodka is often used as a substitute for popular flavored cocktails, such as apple or chocolate. The use of vermouth has also diminished to the point where a bartender may literally pour a drop of vermouth into a glass, swirl it around to coat the sides, and then pour it out completely before adding the actual gin or vodka blend.
Because of this preference for a straighter gin or vodka martini without the vermouth, some mixologists are concerned that the traditional drink has largely fallen out of popularity. The flavored gin or vodka-based cocktails may be popular with a younger clientele, but there is still a substantial demand for the classic cocktail which that defines the concept of a properly mixed drink.
AS FEATURED ON:
AS FEATURED ON:








By: dondesigns

A traditional martini is made with gin and vermouth.

By: redav

Flavored martinis are a popular alternative to the classic martini.

By: JJAVA

A lemon drop martini.

By: Roman Sigaev

Vodka can be used to make martinis.

By: karandaev

A jigger is used to measure alcohol to make a martini.

By: nikkytok

Using dry ice to present a martini can be a sign that it's a "dry" martini.