A mongongo is a type of tall, spreading tree which is found in South Africa. In addition to producing a highly useful lightweight, durable wood, the mongongo tree also yields a distinctive fruit which produces a nutritionally valuable nut. These nuts are known as manketti nuts or mongongo fruits, and they are used as a major component of a balanced diet in some African communities. Products made with manketti nuts such as manketti oil are also distributed worldwide.
Known by the scientific name Schinziophyton rautanenii, the mongongo tree prefers the slightly sandy, arid soil associated with the Kalahari, a major desert in Africa. The trees produce distinctive leaves which are shaped like hands, along with delicate sprays of yellow flowers. Beginning in March, the manketti nuts start to mature on the tree, and the tree slowly loses its leaves as the weather in the Southern Hemisphere turns to fall and winter.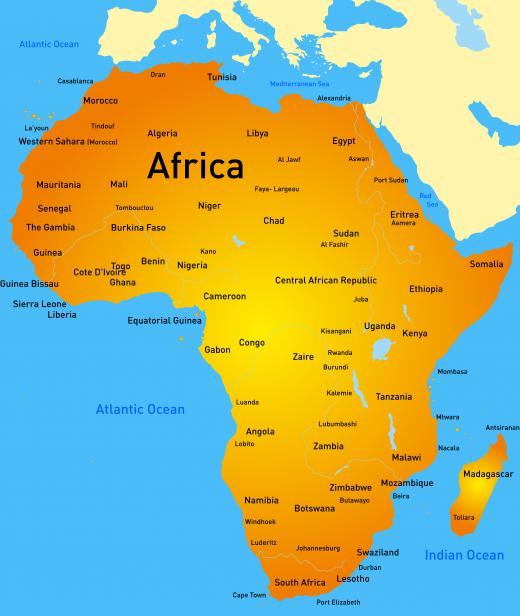 Mongongo fruits are roughly egg shaped, and covered in a soft, velvety husk. The husk can be removed to expose an edible red pulp which is used in preserves and porridge, leaving a thick shell behind. To access the edible nuts inside, people crack the shells or heat treat them to force them to crack. Once the nuts are removed, they can be eaten out of hand, roasted, pressed for oil, or used in an assortment of dishes. Some people prefer to let elephants do the work; manketti nuts pass whole through an elephant's digestive tract, allowing people to collect them from elephant dung. The dung and hard shells can also be burned as fuel.
Manketti nuts store very well, making them very popular in regions of South Africa with less than ideal food storage conditions. They are also high in protein, vitamin E, and calcium. Manketti oil is excellent for the skin, causing many people to use it as a moisturizing and conditioning oil, and it is also beneficial for the hair and nails. When consumed as part of a balanced diet, mangongo fruit can be an important source of nutrition.
Outside of Africa, it can be difficult to obtain manketti nuts, although their oil can be found in specialty shops and stores which carry body oils and soaps. Like other nuts, manketti nuts should ideally be stored in a cool dry place so that their oils do not go rancid, and they can be used in an wide range of foods. If whole mangongo fruit is available, the edible pulp is certainly worth a try.
AS FEATURED ON:
AS FEATURED ON:








By: Ruslan Olinchuk

The mongongo tree prefers the sandy, arid soil associated with the Kalahari, a major desert in Africa.

By: dmussman

Mongongo trees produce nuts that are often consumed by elephants.