A no-host bar, also called a cash bar, is an area at a social function where guests pay for their own alcoholic drinks. Many social events provide guests with dinner and possibly even soft drinks for free, but if they want alcohol, they must pay for it themselves. The opposite is a hosted bar, where the host pays for all drinks consumed by guests.
In the past, many weddings provided a host bar where drinks were complimentary, but with the spiraling costs of these events, no-host bars have become more popular. In some circles, expecting guests to pay for their own drinks is still frowned upon, but a hosted bar can be very expensive and may encourage guests to drink too much. At many weddings, the meals for each guest are paid for and a glass of wine may be provided while the food is being served. After the meal is complete, guests can purchase additional drinks at the bar.
Another popular option at weddings and other events is to give guests tickets with which they can receive one or two complimentary drinks. After these tickets have been redeemed, additional beverages can be purchased. The drinks may be sold at a reduced cost as part of a package deal for the venue. Many hotels, for example, dispense with a bar charge to the wedding party if guests spend over a set amount of money on alcohol.
Many companies hold Christmas parties for their staff with a host bar as a way of saying thank you for their hard work. Sometimes, however, the company's goodwill can be abused. When drinks are free, some guests may frequent the bar as often as they possibly can. This can result in foolish or dangerous behavior on the part of those who have consumed too much alcohol. Since the drinks were provided by the company, it could be held legally responsible if an intoxicated employee gets behind the wheel.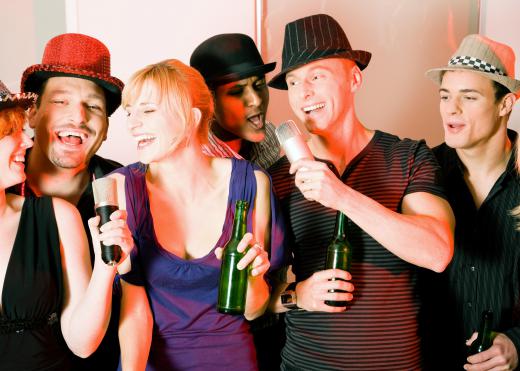 It is exactly for this reason that many companies now use the no-host bar as an option. When the company doesn't have to pay for alcohol, it may spend that money on holiday gifts or bonuses for employees instead. Many companies simply dispense with a bar altogether and do not supply alcohol at company functions.
AS FEATURED ON:
AS FEATURED ON:








By: CandyBox Images

Guests pay for their own alcoholic drinks at a social function at a no-host bar.

By: Innovated Captures

Guests may abuse free alcohol privileges and act irresponsibly, which has led many people to choose a no-host bar when hosting a social function.

By: Kzenon

Also called a cash bar, a no-host bar requires patrons to pay for alcohol and take legal responsibility for actions caused by drinking.

By: CandyBox Images

Many companies hold Christmas parties for their staff with a host bar as a way of saying thank you for their hard work.

By: Aleksey Kondratyuk

No host bars may be offered alongside food samples at an event.