Mouth-watering crusted dishes, meat pies, and other puffy pastry creations are often thought of when English food is mentioned. The Pithivier, such an enclosed pie, is often used in place of the word pie in English cooking. Some, however, believe that the pie actually originated in the town of Pithiviers, France.
A Pithivier is typically a dessert pie served with coffee. Fresh fruits, creams, and fillings are often used as its center. Plums and cherries are typical fruits used, while the most popular center is an almond cream filling. Savory cheeses and meats can be used if desired.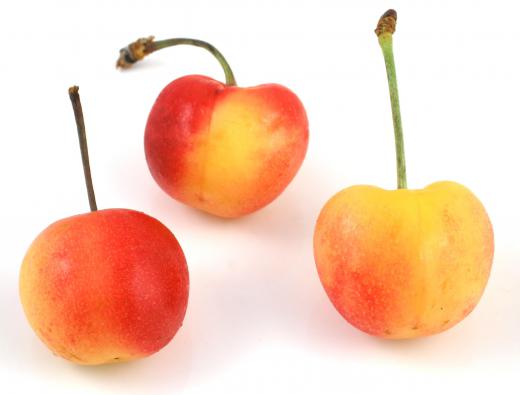 The distinguishing feature between a Pithiver and a typical pie, aside from the name, can be found on the pie's crust. A tasty caramelized sugar spread is usually basted on the pie as a final cooking step. This shiny glaze can also be accomplished by brushing on an egg wash.
When making a Pithivier, any store-bought puff pastry or puff pastry recipe can be used as the base. The dough should be cut in half, then rolled into two circles that measure eight and one-half inches (21 and one-half centimeters). One circle should be placed on a baking sheet and topped with a cup of almond cream or any other desired filling. Brush an egg wash over the edges of the crust, then place the remaining circle on top. Press the edges together, slit the center of the top circle, and let the pie set for at least one hour in the refrigerator before baking.
Pithivier pies should be baked for 20 minutes in an oven preheated at 350 degrees Fahrenheit (175 degrees Celsius). The result should be a slightly browned crust. To finish the pastry, brush on the shiny glaze and bake for another 15 minutes at 300 degrees Fahrenheit (149 degrees Celsius).
To create a simple egg wash for basting the Pithivier crust, combine one quarter of one cup (59 milliliters) of milk, one egg, and two egg yolks. If using traditional almond paste as a filling, buy or make some almond flour. Mix the flour with half of one cup (113 grams) of butter and one egg. A dash of rum may be added if desired. The glaze used in the final step can be made with a simple combination of eggs and sugar or corn syrup to taste.
Decorative edging is normally incorporated when designing these pies. A knife can be used to create a floral, fluted edging around the pie crust. A visually appealing pattern, such as swirled lines featured all along the top of the pie, can be added as well. These pies are best served while warm and fresh. A serrated knife will ensure the cleanest slices while serving.
AS FEATURED ON:
AS FEATURED ON:








By: Harris Shiffman

Cherries are a popular filling for Pithivier.

By: andriigorulko

An egg wash is typically used on a Pithivier.

By: Elenathewise

Pithivier should be stored for at least one hour in the refrigerator before baking.

By: JJAVA

A Pithivier is often filled with a cream made from ground almonds.

By: nata777_7

It's common to serve pithivier alongside coffee.