A pizza pan is a large pan typically designed to allow a person to use it in baking a pizza in a traditional oven. These can be any shape, though round is the most common, and can be made from a variety of different materials and designs to allow for a variety of pizzas to be made. Some pans are flat while others are more rounded on the sides, and some have straight sides and a flat bottom to allow for deep dish pizzas to be more easily made.
Pizza is a type of Italian food made with a large piece of dough on the bottom, topped with any number of different toppings, usually including a tomato sauce and topped with cheese such as mozzarella. The classic pizza margherita is made with sauce, a few discs of sliced mozzarella and a few basil leaves for flavor. A pizza pan allows a pizza maker who does not have a brick oven pizza or pizza stone to more easily cook a pizza in a standard oven.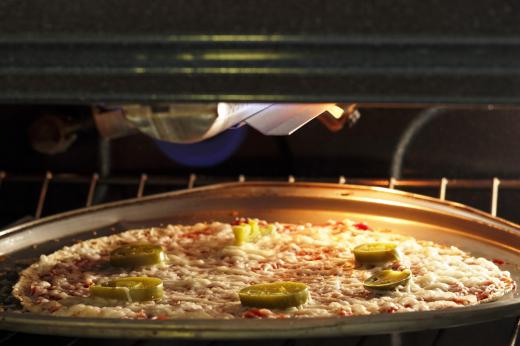 Someone making a pizza will usually prepare the dough for the crust, and once this is ready for use, will then roll the dough out or flatten it into the pizza pan being used. The dough is then topped with whatever toppings a person prefers. Tomato sauce is usually first, with various vegetables and meats on top of that, and grated cheese finally sprinkled over those toppings. This is then placed in an oven to bake until the crust is golden brown and the cheese has melted and began to slightly brown as well.
Different types of pizza pans can be used to create different types of pizza. Round and rectangular pans can be used to create different shapes based on the preference of the pizza maker. Shallow or deep varieties of pizza pan can make a pizza with a crust that is thin and crisp or thick and chewy.
A pizza pan is typically used in standard ovens, though a pizza stone can be used instead, and brick ovens usually do not require a pan. In a brick oven, the pizza will typically be placed directly onto the hot bricks that make up the inside of the oven, placed and removed with a flat board on the end of a long handle called a pizza peel. A pizza stone can be used instead of a pizza pan. This is placed inside an oven to heat up with the oven and then a pizza is placed on the stone for baking and finally removed using the peel.
AS FEATURED ON:
AS FEATURED ON:








By: Serenethos

A pizza in an oven.

By: Jillian Alexander

A pizza pan makes it easier for homeowners to cook all styles of pizza, including a pizza margherita.

By: Oligo

Shallow pizza pans are ideal for making thin pizzas with a crispy crust.

By: sherstobitov

Some restaurants cook pizza on flat bricks or stones in special ovens.