What Is a Poppy Seed Bagel?
A poppy seed bagel is a bread-like bakery item that has a coating of poppy seeds on the surface. Shaped like an oversized donut, the bagel itself is made of a somewhat heavy, thick bread dough. Usually, the outside crust is sprinkled liberally with poppy seeds. The seeds look like tiny black pellets and give the bagel a unique, nutty flavor.
Harvested primarily from a plant known as the opium poppy, poppy seeds are very small oil seeds often used in cooking and baking. Opium poppies, also known by their more formal name, papaver somniferum, are flowering plants that have long stems and vibrant petals that bloom in a number of different colors. The petals are attached to a prominent bud, or seed pod, that contains a host of little black seeds. Once the petals fall away and the seed pod becomes dry and brittle, poppy farmers consider the seeds within ripe and ready to harvest.
Bagels, which are thick, chewy, donut-shaped bread rolls, are popular bakery items traditionally served for breakfast but are often eaten for other meals as well. Known also by the Yiddish name, beugal, bagels are considered Jewish in origin but can be found in various forms in many different countries. For instance, in the U.S., New York-style bagels, with soft, chewy crusts and dense middles, are very popular. In Canada, however, Montreal-style bagels, which are smaller and sweeter with a crunchier crust, are more common. Regardless of bagel style, many bakers add toppings, such as seeds, salt, or other spices, in order to give the bagel more flavor.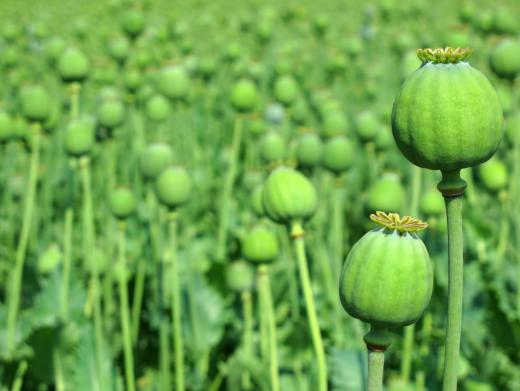 Poppy seeds are one of the most popular toppings for bagels. In order to properly make a poppy seed bagel, chefs must add the seeds prior to baking. For bagels that are boiled before baking, as is true for the New York style, bakers dip them into the seeds after boiling but before placing them in the oven. If the bagels are not boiled beforehand, chefs sprinkle the kernels liberally on top immediately prior to baking. In this way, a poppy seed bagel emerges from the oven with the tasty black pellets baked onto the crust so that they are less likely to fall off.
Once cooked, a poppy seed bagel has a mild, nutty flavor. Many people find that the unique taste of a poppy seed bagel goes well with cream cheese and smoked salmon spreads. Others prefer the sweeter taste of honey or jam to complement the flavor. In some instances, poppy kernels are mixed with other toppings, such as salt, garlic, or sesame seeds.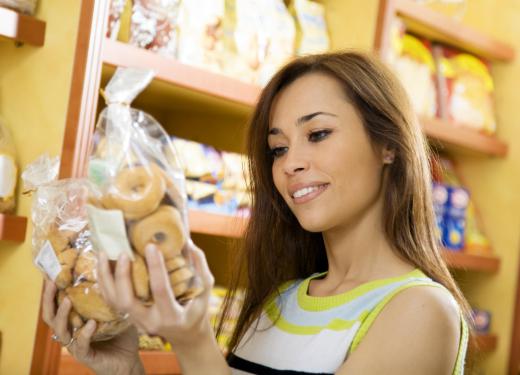 Some people are concerned about the use of poppy seeds in cooking because of the relation to the drug opium, a derivative of the poppy plant. Opium, however, comes from immature seeds harvested from green seed pods, as opposed to the ones used in cooking, which are only taken once the pod is dried out and the seeds are fully matured. As a caveat, though, there is some evidence that poppy seeds, especially if eaten to excess, can cause a false positive reading on some types of drug screening tests. People who are concerned in that regard should therefore forgo indulging in poppy seed bagels or should at least limit their intake to only one.
AS FEATURED ON:
AS FEATURED ON:








By: photocrew

Poppy seeds.

By: peteri

Poppyseeds come from the pods at the base of poppy flowers.

By: PhotoEd

Smoked salmon pairs nicely with a poppy seed bagel.

By: diego cervo

Poppy seed bagels from the deli may be toasted at home and then spread with cream cheese.