A rib eye steak gets its name from the location of the cut, the cow's upper rib cage, and the fact that it is boneless, which makes it an "eye" in meat cutting terminology. Also known as a Delmonico or beauty steak, this steak is generally considered to be one of the most desirable cuts of beef. It can also be one of the more expensive cuts to purchase from a meat department or butcher shop. Many steakhouse customers order rib eye steaks because of their exceptional tenderness, strong beef flavor and reputation as the best choice on the menu. A quality rib eye has ribbons of fat which run between the muscle tissue, a desirable condition known as marbling.
While the beef cow is still alive, different parts of its body perform more work or bear more weight than other parts. All of this strain and exercise can make those areas more lean and tough. The more tender cuts of meat are located in sections of the cow that didn't perform as much work or bear as much weight, such as the upper rib cage. This is the section of beef rib which provides such popular cuts as prime rib, standing rib roast, bone-in rib steaks and the boneless rib eye steak. When the rib section is trimmed but not separated, it is sold as a standing rib roast. If the rib section is separated into individual ribs but not deboned, it is sold as rib steak. Only when the rib bone is removed and other undesirable tail pieces are trimmed away can it be sold as a rib eye.
Because a ribeye steak contains significant ribbons of saturated fat or marbling, it become especially tender during the cooking process. The fat between the muscle tissue slowly melts into the meat, creating a very smooth and satisfying texture. This is why rib eye steaks are ideal for direct heat cooking methods such as grilling, broiling or pan frying. Slow roasting a rib eye steak would only cause the fat to render out of the meat, leaving a very tough and dry piece of beef in its wake. Most ribeye steak recipes call for at least a two step cooking process; a quick hot sear, followed by a slower direct heating method. Steakhouse cooks typically grill ribeyes on a grate over hot coals or gas burners.
Some steak cooks prefer to soak raw ribeye steaks in a seasoned marinade in order to infuse more flavor into the beef and tenderize it slightly. Others believe the rib eye steak is already so flavorful that all it requires is minimal seasoning and careful supervision as it cooks to the desired level of doneness. Many high-end steakhouses use a method called dry aging in order to bring out the best flavors of a ribeye steak. Exposure to the air in a cool room causes the outer surface of the meat to lose some moisture and some of the natural juices of the steak to essentially ferment before they are sent to the kitchen for preparation. A ribeye steak destined for a backyard grill or home kitchen does not have to be aged in this manner, but it should be allowed to reach room temperature just before cooking.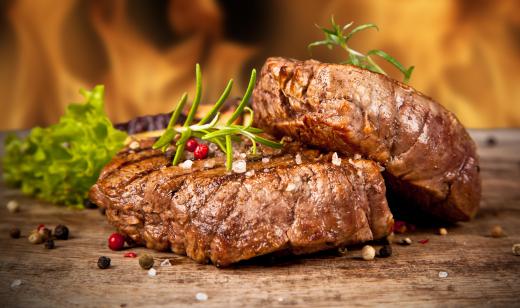 When shopping for a rib eye steak, a consumer should look for a substantial number of white flecks scattered throughout the meat. This is a sign of good marbling, an essential element of a quality ribeye. The meat should be a definite red, not a dull brownish-red color which indicates an undesirable aging. If a ribeye steak is marked down for quick sale, it should be prepared that same day. A good rib eye steak should also be cut fairly thick, at least one half to one inch. A thinner ribeye will be much harder to cook accurately. While the thought of a juicy two-inch-thick ribeye steak has its appeal, a home cook may want to practice with thinner cuts until he or she feels comfortable with the proper techniques of grilling and steak cooking.
AS FEATURED ON:
AS FEATURED ON:








By: Jim Lambert

Rib eye steak may be prepared on a backyard grill.

By: GraphicCompressor

Rib eye steaks should be at room temperature prior to grilling on a barbecue grill.

By: Jag_cz

Rib eye steak is known for its tender, flavorful meat.