A roasting pan is a pan which is specifically designed for roasting things in the oven or under a broiler. There are a range of styles and designs for roasting pans available, ranging from plain tinfoil pans which are intended for single use applications to pans which help strain away fat for low-fat roasting. All kitchen supply stores sell roasting pans along with other roasting accessories; you can also typically find them at food markets and all purpose stores. If you have a specific need, you can also special order a roasting pan from a company which specializes in them.
The primary trait of a roasting pan is that it is designed to withstand very high heat, like that encountered in an oven. Roasting pans can be made from silicone, metal, and heat-treated glass, along with ceramic and enamel. The construction material used for a roasting pan is actually very important, as different materials can impact cooking times and the behavior of food in the oven. Depth is also an important issue; shallower pans, for example, tend to cook foods more quickly, with less tendency for browning on the bottom, while deeper pans can be used to roast deep dishes of mixed meats and vegetables which roast in their own juices as they cook.
Many people like to use metal roasting pans because they conduct heat well and they are easy to clean. Some metal roasting pans come with roasting racks, which are designed to elevate food above the pan to facilitate drainage. Using a roasting rack will ensure that food is evenly crisped, with no soft spots where the food was in contact with the bottom of the pan. For fans of poultry skin, roasting racks are a must-have, as they facilitate the creation of crispy, golden, perfectly browned skin.
In the case of a low-fat roasting pan, the pan typically has two pieces which come apart. One piece has a series of small holes punched into it, and it nests inside the larger piece. As the food roasts, the holes wick away drained fluids and fat, collecting them in the bottom pan. The cooked meat will be leaner, although it can dry out if not well basted. The collected fats and juices can be discarded or used to create a gravy or sauce; although this might defeat the purpose of using a low-fat pan, the resulting gravy is extremely flavorful and rich.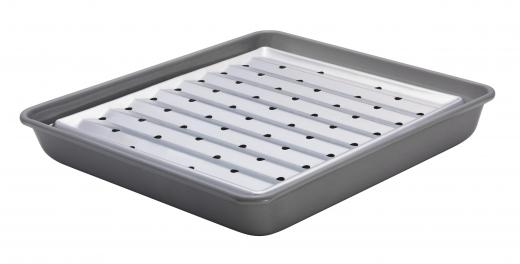 Disposable pans are handy for roasting food for potlucks, as you do not have to worry about reclaiming your pan at the end of the night. If you are seeking a permanent addition to your kitchen cupboards, look for a sturdy pan which will be easy to clean. Some roasting pans can be run through the dishwasher, which is a great option, while others will wear out when subjected to the stress of a dishwasher; make sure to ask whether or not a pan is dishwasher safe. Other roasting pans may need to be soaked or heavily scrubbed for cleaning, although surfaces like glass and enamel tend to be easier to scrub than bare metal.
AS FEATURED ON:
AS FEATURED ON:








By: Popova Olga

Roasting pans are easy to clean.

By: JackF

Roasting pans conduct heat well.

By: rimglow

Some roasting pans come in two pieces: one that holds the food and a drip pan to collect the fat and juices that drip off.

By: mitev

Some roasting pans are dishwasher safe, while others should be hand washed.