Not all kitchen knives are constructed from metal, for a very good reason. Some fresh fruits and vegetables have a reaction when sliced with a stainless steel blade, causing them to develop brown edges and other unsightly blemishes. To avoid this reaction, many cooks use a special salad knife or lettuce knife when preparing garden vegetables and fruits for salads and garnishes.
A salad knife is usually made out of a food-safe plastic, such as nylon. Both the blade and the handle may be molded out of the same piece of injected plastic, or the separate plastic blade may be attached to a wooden or metal handle. The cutting edge is serrated in order to cut through fibrous vegetables, such as iceberg lettuce or celery.
Because the knife is made from a non-reactive material, fruits and vegetables are not as likely to form brown edges shortly after slicing. They may still oxidize from exposure to the air, but the knife blade itself won't interact chemically with the food. This makes it the ideal tool for processing large amounts of lettuce and cabbage, both vegetables that have strong reactions to stainless steel.
This knife can also be used to slice bread, since the serrated edge can cut through without compressing it. A typical blade is also long enough to slice through a large loaf or a large head of iceberg lettuce. It is also safe to wash this type of knife in a dishwasher, since the hot water won't damage the handle or dull the blade. Many metal kitchen knives must be hand washed and stored separately to avoid damage.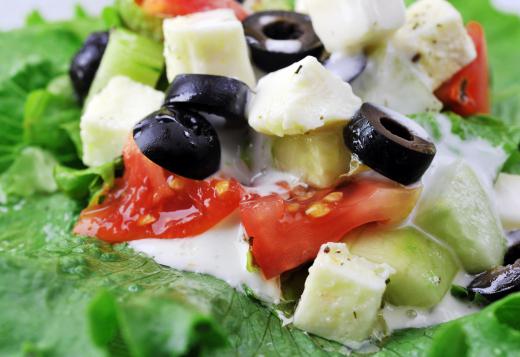 When shopping for a salad knife, consumers should be prepared to ask the salesperson for a "lettuce knife" instead. Although the two terms are often used interchangeably by cooks, many kitchen supply stores and online cutlery outlets refer to these serrated plastic kitchen tools as "lettuce knives" out of habit, even though they are capable of cutting many other foods.
AS FEATURED ON:
AS FEATURED ON:








By: Fatman73

A salad.

By: NataliTerr

Salad greens.

By: Denis Tabler

Chopped Greek salad with feta, cucumbers, and tomatoes.