A spoonula is a kitchen tool which hybrizes the spoon and the spatula in one implement, intended as a convenience item for busy cooks. As far as kitchen utensils go, a spoonula might not be vitally necessary, but it is fun to say and it is also very useful to have one around. Many kitchen supply stores carry spoonulas of varying sizes, and it is also possible to order one through a specialized catalog.
As the name suggests, the spoonula combines the features of a spatula with those of a spoon. A spatula is a highly flexible kitchen tool which can be manipulated to scrape out the corners of pans, pots and bowls, while a spoon is a scooping and serving implement. A spoonula looks like a spatula with a very deep bowl. It is classified among the kitchen scrapers, since it serves the same function as a spatula, although a spoonula can be used for much more than an ordinary spatula.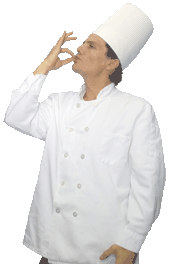 In most cases, the business end of a spoonula is made from a heat resistant material, such as silicone, attached to a long handle which keeps the hands of the cook away from the heat. A spoonula can be used as a cooking spoon on the stove top to stir things as they cook, with the broad spoon ensuring wide coverage and the flexible body scraping into all the corners of the pan, ensuring that nothing burns. The heat resistance means it can also be left leaning on a stove or oven without ill affects.
In general, the handle of a spoonula is very thick and strong, so that it can stand up to stirring heavy batters, stews, and similar foods. A spoonula is ideal for things like hand mixing bread dough and working with other stiff doughs and batters. A heat and cold resistant spoonula can also be used in many areas of the kitchen without fear that it will shatter, break, or melt.
When selecting a spoonula, a cook may find value in a silicone spoonula. Silicone is heat and cold resistant, and it will not hold stains and odors, meaning that it can be used for tomato sauce one day and orange cupcakes the next without any ill affects. The handle should be thick and sturdy, and the buyer may want to try bending the silicone. If white streaks appear, a cheap filler has been used, and a different spoonula should be sought.
AS FEATURED ON:
AS FEATURED ON:








Chef