Strainers have a very important role in the kitchen. These cooking utensils are necessary to help eliminate excess liquid from a dish. A tamis, which is a type of drum sieve, acts not only as a strainer, but also as a food mill and grater.
A traditional tamis is made from wood or metal, such as stainless steel. A round instrument that features a mesh disc, it can come in varying sizes. The diameter of a common tamis range from seven to 12 inches (18 to 30 centimeters). Instead of mesh, some of these instruments may feature nylon or fine metal for straining and grating.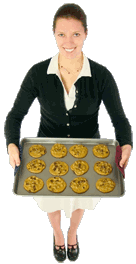 Made of metal or wood, the tamis is often used in French and Indian cooking. Also known as a chalni, the instrument varies from a traditional colander; rather than featuring a bowl-like, curved interior, the mesh part of the strainer is flat. This allows the cook to pour the food being strained on top of the device, pushing it through with a pestle or scraper to fully remove its liquid content.
Semi-viscous foods are best strained with the drum sieve. Rice and bean dishes in particular can have their water content successfully reduced with the tool. Berry-based sauces can be smoothed into uniform textures with the chalni, keeping lumps of the fruit out of the finished product.
This shape also allows for optimal grating pressure. A chef can push the device downward, in a horizontal motion, in order to easily grate foods into smaller pieces. Many chefs consider this tool to be the best device for executing the finest grating possible, and use it to create the smallest particles of a product for use in recipes.
Tamis sieves may also be used in place of a flour sifter for cocoa, sugar, flour, and other dry ingredients. Clumps found in these food can be easily removed with the help of a tamis. When handling extravagant orders, or a large amount of food in a short amount of time, chefs often opt for this instrument rather than a traditional sifter.
When using this tool, grasp it with the inside hoop on top. This allows the device to contain more food, preventing unnecessary and unwanted spills or drips. This also allows for maximum room and filling capacity of the bowl resting beneath the sieve.
Pronounced "tammy," the instrument has been used since the Middle Ages. In addition to the cooking utensil, the word has another meaning: the Timiş River is also sometimes known as the Tamis. This river flows through Romania and Serbia.
Other Uses for a Tamis
The primary uses for the tamis are sifting and straining, but it can also be used for a variety of other tasks.
Purifying
The tamis can be a useful tool for removing unwanted particles from ingredients. For example, pressing foie gras through a tamis removes the small veins and impurities, leaving a silkier texture. This technique is often used when making torchon, which is a classic French foie gras dish, and foie gras mousse. It can also be a useful tool for removing fibrous particles from plants, such as spinach.
Removing Seeds
Chefs often need to remove seeds from ingredients. The tamis provides a fast way to remove seeds from soft ingredients, such as cooked eggplant.
Ricing Potatoes
Chefs often use food mills or potato ricers to achieve smoother, silkier mashed potatoes than you can achieve by using a potato masher. However, using a tamis to rice potatoes provides an even finer result and is the key to making ultra-silky potato purees. To make silky mashed potatoes or pommes puree, pass the cooked potatoes through a ricer or food mill and then pass them through the tamis.
Straining Soup
If you need to strain a soup with bulky ingredients, a tamis is often a better tool to use than a traditional strainer. The large, flat surface of the tamis helps prevent accidental spills.
Making Quenelles
Quenelles are light fish dumplings. They are made by flambéing and then caramelizing the shells of shrimp or lobster and then cooking them with other ingredients. The shells and other ingredients are then finely ground and passed through a tamis to remove the shell particles and achieve a bisque with a velvety texture.
Making Gnocchi
Gnocchi are potato dumplings that can be tricky to get right. Many inexperienced cooks end up with a finished product that is gummy and dense, rather than light and fluffy. Scraping your cooked potatoes through a tamis and then spreading them in a thin layer on a baking sheet or tray to cool and dry before making your dough can help you achieve the desired texture.
Substitute for Cheesecloth
Cheesecloth is gauze-like, woven cotton cloth. It gets its name from its original use, which was to wrap homemade cheese. Cheesecloth can be used for straining fine particles of food. If you don't have a cheesecloth, you can use a tamis instead. It will not catch as many fine particles as the cheesecloth but can work well for many types of recipes.
Substitute for a Chinois
The chinois is a cone-shaped metal strainer often used in Chinese cooking. A tamis can be used in place of a chinois in most recipes that call for it.
Nylon Versus Metal Tamis
Nylon mesh holds its shape better and is more resilient than wire. It is the preferred material for using a tamis for making fruit purees because the metal wire can cause discoloration. Wires mesh is stronger than nylon and sharper but must be dried thoroughly after use to avoid rust.
Other Meanings of the Word Tamis
The cooking tool is the most common use of the word "tamis," but there are a few other meanings.
Military Acronym
TAMIS is an acronym for U.S. Army Total Ammunitions Management Information Systems. It is used to compute ammunition requirements for combat, training and sustainment load. It makes preparation, routing and validation of electronic requests for ammunition possible, creates operational load and training ammunition forecasts, gathers ammunition expenditures and generates reports.
Medical Procedure
In medicine, TAMIS means "Transanal Minimally Invasive Surgery." This is a surgical technique that allows surgeons to carry out surgeries through the anus. The procedure leaves no scars and results in minimal post-surgical pain. The primary use of this surgery is for removing rectal cancers and pre-cancerous growths in their early stages. The procedure utilizes laparoscopic equipment, specialized insufflation and high-definition cameras.
The procedure was first developed in 2009 by Dr. Sam Atallah and two additional surgeons. The use of the surgery depends on the location, stage and depth of the tumor and the overall health of the patient. The TAMIS procedure is considered organ sparing and can be performed without making any incisions in the skin. This avoids the need to remove a large portion of the intestine and helps patients return to normal bowel function quickly.
Most TAMIS procedures can be performed as outpatient surgeries or require an overnight stay. Traditional surgeries, such as polypectomy, abdominoperineal resection or low anterior resection, may require a few days to more than a week in the hospital.
AS FEATURED ON:
AS FEATURED ON:








Woman baking cookies