A waiter is a person who works in either the catering or restaurant industry, and is invaluable to the food service process. Traditionally most waiters were male, but this has changed significantly, leading to the term waitress. Eventually many felt that differentiating waiter from waitress was sexist, and many have suggested less gender-centric terms for people in this profession, including server, or waitperson.
A waiter's job in a restaurant includes greeting people once they are seated at a table. If it is a particularly busy night, the waiter should still attempt to acknowledge people seated in the section of the restaurant he or she is responsible for and let them know that he'll be back in a moment or two. The waiter then takes orders of guests, informs guests about specials, and answers questions regarding ingredients or preparation methods. If you are in this profession, it is very helpful to be aware of how the kitchen staff prepares meals.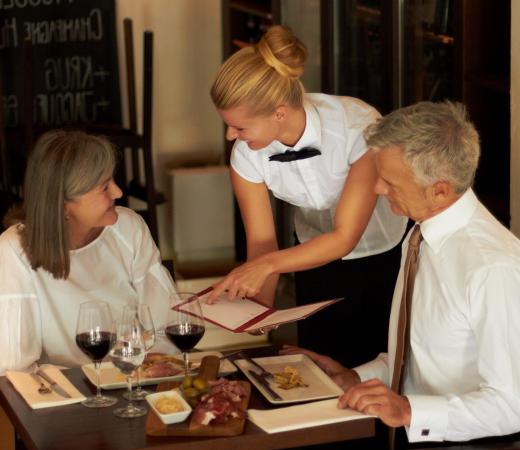 After taking an order, the waiter gives this order to the kitchen staff, and if multiple courses are involved, servers may let staff in the kitchen know when first courses are finished in order to maintain good progress of meals from the kitchen to a guest's table. The typical order with multiple courses is usually "fire table X." Most waiters are assigned a specific amount of tables for each shift, which are numbered.
Waiters serve dishes to guests, and may additionally clear dishes, especially if buspersons are also busy. They may consult on wines to be served, though in some restaurants this is the responsibility of the sommelier. When a meal is finished, they may present guests with dessert and dessert wine menus, or some restaurants have a dessert cart, which the waiter brings by, so delicious seeming desserts can visually tempt guests.
Throughout the course of a meal, waiters check back with guests making sure the meal is to their satisfaction, and that nothing else is required (sauces, knives, additional water, or more drinks). Dishes need to be cleared promptly, so guests don't have to sit at tables with dirty dishes, but not so promptly that some of the guests haven't finished eating. A waiter also has to adapt him or herself to the pace of each diner. Some people are interested in quickly eating a meal and leaving, and others are interested in more leisurely dining experiences.
Depending on the state they're working in, the base wage of a waiter can range from a little over $2.00 US Dollars (USD) to minimum wage per hour. Waiters are able to make more money by getting tips, which must be claimed as income on tax reports. According to the U.S. Department of Labor, in 2006 the median hourly earnings of a waiter, including wages and tips, was a little over $7 USD. The standard tip in the US is 15%, when service has been adequate. When service is less than adequate, customers should take into account the business of the restaurant, and what other factors may have contributed to a poor meal. If the food is poorly prepared, this really isn't the waiter's fault and doesn't warrant a deduction in tip.
Waiters can work in the catering industry too, and here their jobs may be only the carrying of food and drinks to table, or for elaborately catered affairs, they may also be taking orders as well as delivering food. Hallmarks of a good waiter include the ability to be attentive and polite to guests, careful delivery of food to the table, and an attitude that makes a dining experience pleasurable to guests.
AS FEATURED ON:
AS FEATURED ON:








By: Yuri Arcurs

A waitress explains the menu to her customers.

By: Paul Hill

A waiter is a person who works in either the catering or restaurant industry serving food to guests.

By: Kablonk Micro

Waiters and waitresses are now often called servers, a more gender neutral term.

By: bst2012

At a small cafe or restaurant, the server may also handle customers' bills.