American cheese in its most common form is a blend of milk, milk fats and solids, with other fats and whey protein concentrates. Although loved by many children (and adults) as a snack or in grilled cheese sandwiches, it is not usually considered "cheese," except by legal definition. All the ingredients do meet the legal definition of cheese, although the final result is typically more cheese-like. This is why many products bear the name "cheese product" or "cheese food" on the packaging.
When it was first developed, American cheese was a blend of Colby and cheddar cheeses. These varieties were most popular in America, where the particular blend was invented. The cheese then was sold in blocks in delis and supermarkets, where it was often was preferred because of its mild flavor.
With the surge in popularity of convenience foods in the 1950s, it is not surprising that processed cheese slices were first commercially available during this decade. This processed cheese soon took the name "American" and the product as it is known today was born. "American cheese" does have a specific definition as a pasteurized process cheese, in fact.
This cheese was first popular because it melted smoothly and didn't separate when heated, as cheddar tends to. This made is a good choice for use on grilled cheese sandwiches, cheeseburgers, and for use in dips and spreads. It still maintains those properties, and most people are familiar with Ro*tel® cheese dip, which uses pasteurized process cheese and tomatoes with chiles. Kept warm in a slow cooker, this cheese dip is probably one of the most popular hot dips nationwide.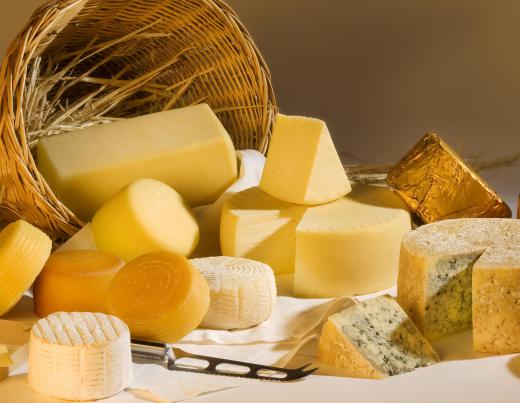 American cheese has its critics, for its fat and sodium content, colorings, and other additives. It is, after all, made from the remnants of "real" cheese-making. It is high in calcium and protein, however, and is still a good way for parents to make sure their picky eaters get some kind of variety in their diets. Although disrespected by many, the cheese has a place in American eating and cooking.
AS FEATURED ON:
AS FEATURED ON:








By: renamarie

Sliced American cheese often comes individually wrapped.

By: Marius Graf

Milk and milk fats and solids are the basis of American cheese.

By: manuart

When it was first introduced, American cheese was a mild blend of Colby and cheddar cheeses.

By: PhotoEd

American cheese is often a topping on a cheeseburger.