What Is an Almond Biscuit?
In China, the almond biscuit is a crunchy, round pastry. This tasty snack is one of the most popular treats in Hong Kong, and can be found in many different flavors. The dessert is also known as the almond cake or almond cookie.
Most Chinese bakeries sell classic almond biscuits. In a basic recipe, the flavor of these cookies comes from sweet ingredients, such as sugar, almonds, and almond extract. Other typical ingredients include those that may be found in the majority of cookie formulas, such as flour and baking soda. Salt is commonly used to make the almond biscuit, as are butter and eggs.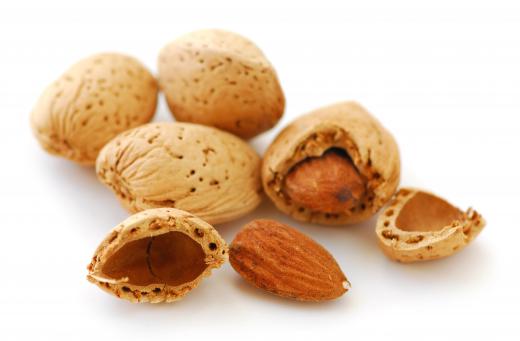 Once all of the ingredients are mixed together, the cookie batter is typically not smooth and runny like many cookie mixtures, but clumpy and crumbly instead. Cooks should take this as a sign that the cookies will cook properly. The dough is then rolled into two long, full logs before being refrigerated for a minimum of two hours to chill.
After the almond biscuit dough is fully chilled, it can be sliced into smaller cookie shapes. Some cooks add an almond into the center of each cookie before baking them, though this is not necessary. Though this is the traditional preparation of the almond biscuit, some Chinese food chains do not include an almond in the center. The cookies are then traditionally rolled into ball shapes, though they may be instead shaped with cookie cutters or arranged however the cook wishes the finished products to look.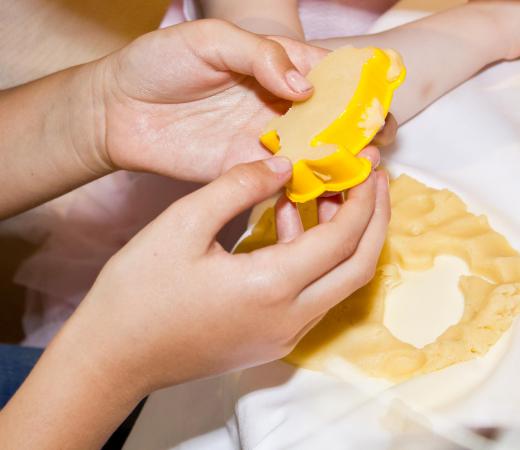 A light egg wash is brushed on top of each almond biscuit before they are placed within the oven. The cookies are usually cooked at medium to high heat. Within 20 minutes or less, they are typically finished and ready to cool before serving, or being stored within an airtight cookie jar or other container. They may be packaged in wax paper or another form of packaging if being sold individually. The entire process, if completed correctly, generally takes under 40 minutes.
Nutty almond biscuits are often available in Chinese restaurants throughout the world. They may be able to be purchased a la cart, or as a dessert option alongside buffet meals. Some Chinese restaurants may even include almond cookies for free along with an entree purchase. Eating the cookies during the Chinese New Year is a traditional activity, as they are meant to symbolize coins and bring with them good fortune.
AS FEATURED ON:
AS FEATURED ON:








By: Elenathewise

Shelled and whole almonds.

By: 0635925410

For a non-traditional approach almond biscuits can be molded into fun shapes using cookie cutters.