What Is an Antipasto Platter?
An antipasto platter is a spread of light, usually savory finger foods that are served as an appetizer before main entrées are served. These foods are supposed to encourage a relaxed, friendly atmosphere before the entrée arrives. For this reason, antipasto platters should never include heavy or hot foods, because they can make guests feel tired and full. Antipasto platters are traditional in Italian homes; the word even means "before the meal" in Italian.
Even very simple Italian antipastos contain a wide variety of foods. Any traditional antipasto platter includes cold meats, such as salami and spicy sausages. Marinated vegetables, such as artichoke hearts, salty olives and sweet or spicy pickles, complement the flavors of the meats. Fresh, soft cheeses such as mozzarella, feta or goat cheese spread easily across sturdy, load-bearing crackers. The goal of an antipasto platter is to allow guests to combine flavors and experience different food combinations.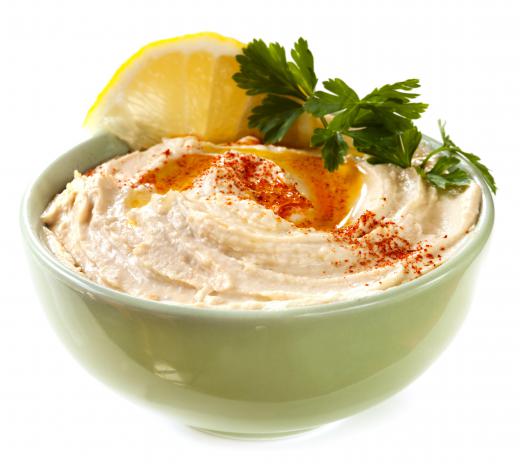 Cooks who are interested in a more advanced antipasto platter might serve seafood, small bowls of almonds, hummus and an array of pita breads or even melon balls. The only true rules for an antipasto platter are that it should contain only cold food and that the flavors be comprised of traditional Italian fare. These rules make creating an antipasto platter simpler, especially for the novice.
When considering what kinds of foods should go on any antipasto platter, home cooks should consider when and where it will be served. Intimate gatherings could call for a small but expensive platter full of cold shrimp, smoked salmon, rustic-style breads and brie. An undersized group gives a host or hostess a chance to spoil his or her guests, even on a budget. Larger groups might require more, less-expensive foods such as pepperoni, provolone cheese and salty green olives. Guests can still enjoy mixing and matching flavors, and the cook can use the rest of the budget for the entrée.
Hosts and hostesses should also consider the rest of the meal when piecing together their appetizers. For instance, it's better for the host or hostess not to serve a shrimp antipasto if the entrée is heavy on shrimp. If the dessert includes salty goat cheese, the host or hostess should serve a variety of mild cheese before the meal.
Antipastos — and Italian cooking in general — are about variety and complementary flavors. A successful antipasto platter should not fill the stomach but stimulate the appetite and make guests want more. The platter should foster both hunger and conversation.
AS FEATURED ON:
AS FEATURED ON:








Hummus can make a great addition to an antipasto platter.

Classic antipasto platter including sliced prosciutto and salami along with olives and assorted varieties of cheese.

Goat cheese, which is often included in antipasto platters.

By: photocrew

Tomato and pepper bruschetta, which is sometimes served with an antipasto platter.

By: Viktor

A bowl of bocconcini, small balls of fresh mozzarella, may be included as part of an antipasto platter.

By: Yuri Arcurs

Diners enjoy an antipasto platter.

By: uwimages

An antipasto platter is enjoyed before a main course.

By: hitdelight

An insalata caprese that features fresh basil, juicy tomatoes, and olive oil is a common Italian antipasti.