What Is an Empire Biscuit?
An empire biscuit is one of the many Scottish desserts popular across the United Kingdom. Formally known as the German biscuit, the dessert is two cookies wrapped around a layer of jam or cream that binds the cookies together to form one solid treat. Traditionally, the biscuit has a layer of icing across the top cookie with a cherry or piece of candy planted in the center. The biscuits are often homemade, but packaged versions are also sold across the U.K and parts of Europe. Depending on the area, the empire biscuit is also called a double biscuit or imperial biscuit.
The empire biscuit has been a popular snack, especially in Scotland, since at least the early 1900s. Originally known as the Linzer biscuit and then the German biscuit, bakers and manufacturers changed the name of the snack to empire biscuit during World War I. The name change was an attempt to inspire patriotism across the United Kingdom during the war, similar to the name "freedom fries" used in the United States.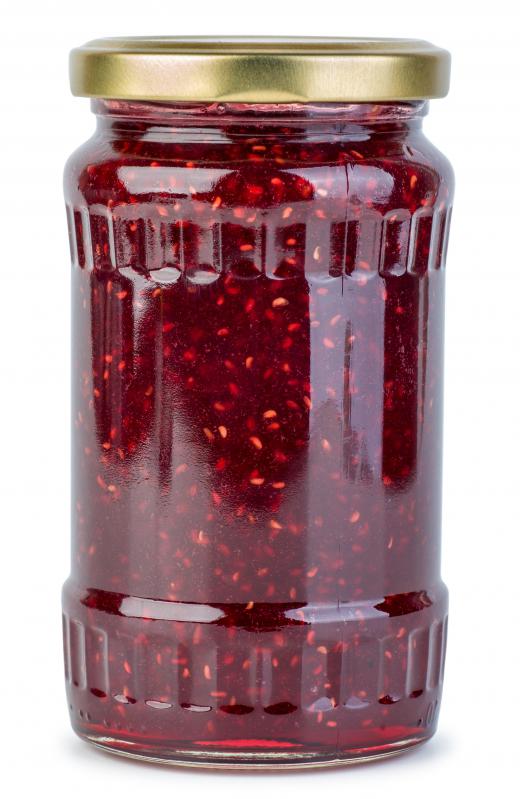 Two cookies that are similar to a buttery sugar cookie common in the U.S. are used for the empire biscuit. Typical ingredients for the cookies include white flour, sugar, eggs, and vanilla. Many traditional recipes call for using vanilla bean seed, which produces a much more pronounced vanilla flavor than simple vanilla extract. The cookies are round and flat in shape.
For the filling, some bakers use a combination of heavy whipping cream and sugar. This combination produces a thick cream that binds to the cookies and becomes slightly solid after the dessert cools down. Many bakers prefer a more traditional jam filling, however. Any kind of jam can be used for the filling, including strawberry, blueberry, or raspberry.
A thin layer of icing — a combination of corn starch, cream, and sugar — rests on top of the cookies. The icing then hardens into a firm shell after the biscuit cools. Traditionally, a sugar-coated jelly candy is placed on top of the empire biscuit to give it some decoration and extra sweetness. When the dessert is made at home, a glazed cherry, which is similar to a maraschino or candied cherry is often placed on top.
AS FEATURED ON:
AS FEATURED ON:








By: Roman Ivaschenko

Raspberry jam is a common filling in empire biscuits.

By: rimglow

Some traditional empire bisquit recipes call for using vanilla bean seed, which produces a more pronounced vanilla flavor than simple vanilla extract.