An oven rack is a metal rack that fits within an oven, and is often used for placing pans onto while cooking in order to keep the food centrally located within the oven. Most racks can be rather easily slid into and out of an oven, allowing them to be removed to allow larger dishes to be cooked within the oven. Ovens will typically feature a number of slots on the sides of the oven into which the racks can be slid, allowing the racks to be repositioned at different levels. An oven rack can be easily replaced or cleaned even though it can often take abuse through heavy use.
The typical design for an oven rack is fairly basic and usually involves a number of metal bars connected together by a metal frame. In general, these racks look fairly similar to a cooling rack used for baked goods, though often they are made from heavier metal that can better handle more weight placed upon it. The frame used for the rack is typically rectangular and the rack will usually consist of primarily horizontal bars, with several vertical bars to provide reinforcement and greater stability for the rack.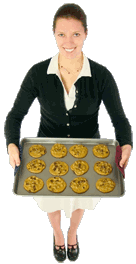 A typical rack will be designed especially for an oven, though certain ovens may be able to use the same style of rack. This is because the rack must be able to fit properly and securely within the oven. An oven will typically have slots on the sides into which the edges of an oven rack can be slid, often with some type of raised lip to allow the rack to be somewhat locked into place. While the rack can still be easily moved, this design means it will not usually move as an accident.
The removable nature of an oven rack means that it is typically quite easy to clean. While cleaning the inside of an oven is often an unpleasant task, the racks can simply be pulled out and washed in a sink. Most foods cooked in an oven will typically be placed on a pan or pot and then placed into the oven. Some dishes can be prepared directly on the racks of an oven, but this is fairly unusual. For example, although many people wrap a potato in foil before baking, this can often lead to the potato being steamed and not properly roasted; some recipes call for the potato to be placed, uncovered but rubbed with oil and lightly salted, directly onto a rack for baking.
AS FEATURED ON:
AS FEATURED ON:








Woman baking cookies