Baking science is a field of study that seeks to understand and more easily manipulate the scientific aspects of baking in a kitchen. This typically involves understanding how the application of heat can make changes to a dish, as well as understanding the chemical components involved with baking a number of different foods. In many ways, baking is simply a form of chemistry that results in edible results rather than other chemical solutions or creations. Baking science allows bakers and chefs to better understand how the process of baking turns base ingredients into a product far greater than the sum of its parts.
One of the most basic aspects of baking science is an understanding of how heat is applied to foods and how that application changes food at a base level. This extends beyond baking science, as the application of heat is equally important with regard to other forms of cooking. From wet heats such as boiling, frying, and steaming, to dry heats such as baking and grilling, not all types of heat are the same and the affects they have on a dish can vary greatly. This type of baking science is often evident in situations where breads are baked using humidity as well as dry heat or in the frying or boiling of donuts and bagels.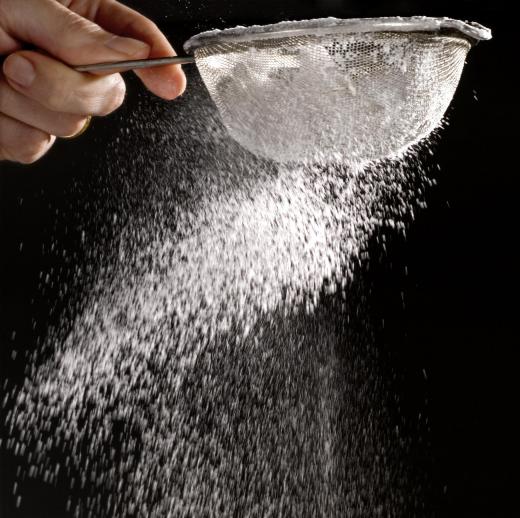 Baking science really comes into its own as a distinct field of culinary inquiry in regards to the ingredients commonly used in baking and how those ingredients work together. For example, flour and water are two of the most common ingredients in baking breads, along with a leavening agent, and how these components work together controls the type of bread produced. Flour, when used in a proper ratio to other ingredients, produces gluten that forms strong but elastic bonds within a dough or batter.
This gluten is able to stretch a great deal. Some recipes call for dough to be tested to ensure it can be stretched thin enough to see through without tearing. In some respects, gluten can be considered similar to bubble gum. The gluten can be similarly inflated and blown into a bubble, with enough strength to retain its shape.
By understanding baking science, a baker knows that some form of gas must be introduced to a dough or batter to create these bubbles. This is typically done by adding yeast or a leavening agent. Yeast is a microorganism that eats sugars and produces gas, while acids and bases from leavening agents like baking soda and baking powder can also produce gases, and these work to inflate the gluten into bubbles. A baker well versed in the principles of baking science understands that when dough bakes into bread, these bubbles are retained by the strength of the gluten and the resultant bread will be light and airy.
AS FEATURED ON:
AS FEATURED ON:








A baker sifting flour.

By: Robin

Baking soda and baking powder, which are commonly used in baking.

By: Robinson

Yeast.

By: Kondor83

Cream of tartar.

By: jrtb

A measuring spoon, one of the basic tools for baking.

By: Tesgro Tessieri

Baking courses should cover how to make all of the ingredients used in pastries, including custard and dough, from scratch.