Originally from the northern part of India, barfi is a sweet confection made from sugar added to sweetened condensed milk and then boiled down to a solid. Without added color or flavorings, the sweet dessert resembles packed snow. The name is a derivative of the Hindi word for snow. It has often been compared to fudge given its extreme sweetness and its consistency.
Often referred to as the Indian cheesecake, this favorite has the faint scent of cheese. It also resembles some types of cheese. However, while it may resemble cheese or have a faint scent similar to it, it does not taste like cheesecake.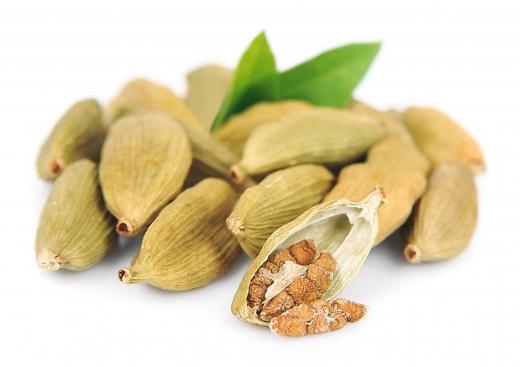 Another popular type of this sweet dessert is besan barfi. Besan barfi includes the addition of besan flour in its recipe. Pista barfi has the pistachio nut added to it. Often the edges are rolled in the ground nut, and whole pieces of the nut can be added as well. Similarly, kaaju barfi has cashews included within its recipe.
The most popular spice used to flavor this dessert is cardamom. However, dependent on where it is prepared, many different flavorings are added to this simple but popular dessert. Adding silver leaf to the edges of barfi is popular when the sweet confection is to be served at an important event such as a wedding or other such occasion. For added flavor and to provide a colorful contrast, often it is rolled in crushed nuts before it is served. Fresh fruit is often served along side the confection.
When served, barfi is cut into different shapes, the most common of which are squares, diamonds, or circles. These shaped pieces are arranged in patterns along with fresh fruits, nuts, and even sugar-coated flowers on plates. The dessert is easily adapted for causal occasions to the most formal event, which explains its great and enduring popularity.
There are many different varieties throughout the regions of India, Pakistan, and Bangladesh. The reason for this is that the basic recipe is extremely adaptable. From region to region, the appearance of it can differ greatly due to what is added to it.
Barfi is served quite often at Diwali. This is the celebration is the Hindu festival of lights. The traditional Hindu cuisine is an important part of these annual festivities, along with firework displays and specially crafted decorative lamps.
AS FEATURED ON:
AS FEATURED ON:








By: margo555

Barfi is often seasoned with cardamom.

By: fkruger

Besan is a popular addition to barfi.

By: Maridav

Kaju barfi is made with cashews.

By: matka_Wariatka

Barfi incorporates both fruit and nuts.