Bistro cuisine typically features creative, healthy versions of traditional French dishes. Often served in a bistro, or small cafe, this casual, contemporary cuisine frequently consists of ample portions and is often accompanied by wine. A key feature in its preparation is the use of fresh, local produce.
In France, where bistro cuisine has its origins, bistros are often operated by families and are the place to go for quick, casual meals. Many restaurants now offer this type of cuisine without the heavier ingredients, such as butter and cream, that are traditionally used in French cooking. Sandwiches and burgers may be accompanied by mixed greens, roasted peppers, or fresh goat cheese and tomatoes. More hearty main courses include seafood dishes, salmon tartare, steak au poivre, flank steak, or steak frites.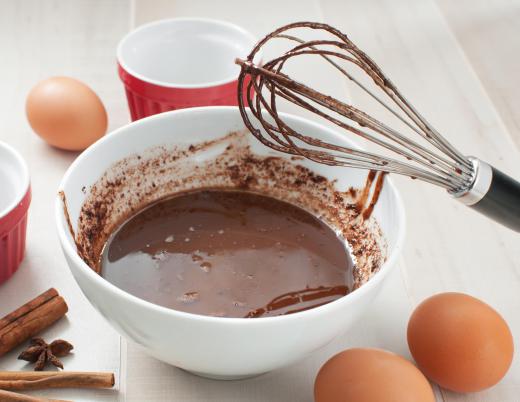 Meat and vegetable dishes are seasoned with garlic, olives, shallots, and herbs such as thyme, tarragon, and rosemary. Many bistro menus include assorted chilled salads, omelets, and traditional French sandwiches. Croque-monsieur is a traditional sandwich made with ham and Gruyère cheese. Some bistros are chef-owned, where specials might include rabbit pot pie or roast chicken with spaetzle. A typical charcuterie plate might include pate, duck prosciutto, and cornichons.
Other dishes include goat cheese and herb spread, salad Nicoise with tuna and quail eggs, grilled steak with béarnaise sauce and sautéed potatoes, and apple tart with crème anglaise or muffins flavored with lemon and almond. Soup and pasta dishes might accompany a tart or quiche of the day. Classic dishes include mushroom-filled omelets or mussels in cream sauce or white wine.
With the trend in bistro cuisine on the rise, many delis and other quick-serve restaurants have adopted the bistro name, much to the chagrin of those who have visited authentic French bistros. A brasserie is similar to a bistro, and also becoming popular in the US, but it is usually larger, has longer operating hours, and can be less expensive than a bistro. This larger version is more likely to be boisterous, too.
AS FEATURED ON:
AS FEATURED ON:








By: razmarinka

French chocolate pot de crème is a decadent end to a bistro meal.

By: Adam Wasilewski

Bistros are the place to go for quick, casual meals.

By: albphoto

Bistro cuisine is often accompanied by wine.

By: Schlierner

Garlic is a popular seasoning in bistro cuisine.

By: MIGUEL GARCIA SAAVED

Bistros typically offer a quiche of the day.

By: Marco Mayer

A person might find mussels a part of a bistro's menu.

By: Comugnero Silvana

Bistros often feature comfort foods, such as fish and vegetables topped with a creamy mornay sauce.

By: Andrey Starostin

Herb-roasted chicken is a staple in French bistro cuisine.

By: SunnyS

Salmon tartare is a healthy choice in bistro cuisine.

By: Martin Turzak

Terrine is associated with French cuisine.

By: goodluz

Chefs who specialize in bistro cuisine typically use fresh, locally sourced ingredients in their dishes.