Budae jjigae, which literally means army base stew, is a thick Korean soup made with meats that were once found on American army bases in Korea. This soup was invented during the Korean War when meat was scarce in Korea. The meats used in this soup were handed out by American army bases and include spam, hot dogs, and other common canned meats. There are many different recipes for this type of soup, and as this dish was essentially improvised based on what ingredients were available, all can be considered equally valid.
During the Korean War, food scarcity was a major problem. This dish was invented to combat that problem and combines American and Korean flavors. After the war, this type of soup remained popular and continues to use meats like spam, hot dogs, and meatballs even though the meat scarcity no longer exists.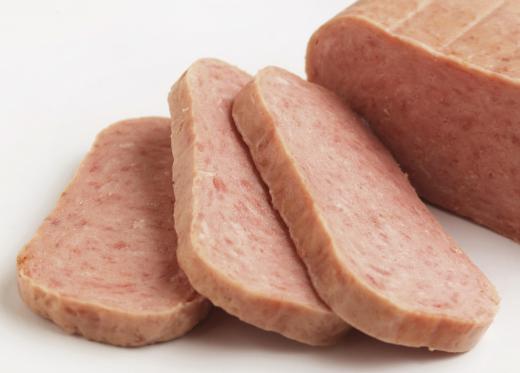 One common way of making budae jjigae incorporates instant ramen noodles, canned meat, and a large assortment of vegetables. All ingredients are usually cooked together in a large pot rather than preparing the ramen according to the packaged directions. It is important to make sure that all ingredients are cooked thoroughly when making this soup, but this is usually not a problem because canned meats can typically be eaten cold. Most recipes take less than an hour to make, although some may involve more preparation or more ingredients than others.
Some variations on budae jjigae include other ingredients that would have been available on army bases at the time. For example, budae jjigae can include baked beans or cheese as a topping. This combination of flavors is less popular outside of Korea, but can still be found served in some restaurants. Restaurants that serve this dish are not limited to ingredients available at the time budae jjigae was invented, but the type of meat used is typically considered a defining feature and is thus retained.
The wartime stigma associated with this dish is often a sore spot, and so some people choose to refer to this dish as Uijeongbu jjigae. This identifies the region of Korea most famously associated with this type of soup rather than army bases. Use of this name is not popular, although it has been adopted by some restaurants, sometimes in the form of Uijeongbu budae jjigae. Without successfully renaming this dish, it is unlikely that it will ever lose its association with the Korean War, as the term "army base" is included in the name.
AS FEATURED ON:
AS FEATURED ON:








By: sasaken

Spam is still used in budae jjigae.

By: sommai

Budae jjigae will often feature instant ramen noodles.

By: bogdanserban

Budae Jjigae was first cooked using meats that could be found at Amercan military bases in South Korea.