Cashew milk is referred to as milk because it resembles an actual dairy product in both look and texture. It is smooth, rich and white in color, and can be used in place of milk as a beverage, on cereal, in recipes and in hot drinks such as coffee and tea. It contains ground cashew nuts and water.
Cashew milk is made by soaking cashew nuts overnight, then grinding the drained nuts as fine as possible. Water is added to the strained juice from the nuts to make the resulting liquid as thick or thin as desired. Sometimes a sweetener such as agave juice, honey or sugar may be added, according to personal tastes.
People consume this milk for many different reasons. In some cases, the drinker is a vegan, having chosen to eat only foods that do not come from animals in any way. Since this rules out all kinds of dairy products as well as meat and eggs, vegans use other things to substitute for the foods they choose not to eat. Nut milks, such as those made from almonds or cashews, are a common choice to replace cow's milk.
Other people who drink this milk are those who have special dietary restrictions, particularly people with allergies to cow's milk. This group can include both children and adults. For those not used to the taste of nut milk, the change from cow's milk to cashew milk will most likely require a period of adjustment, since the flavors are quite a bit different from one another. For a person who can't have any dairy products without risking illness, though, the unusual taste may easily be preferred over other milks within a short period of time.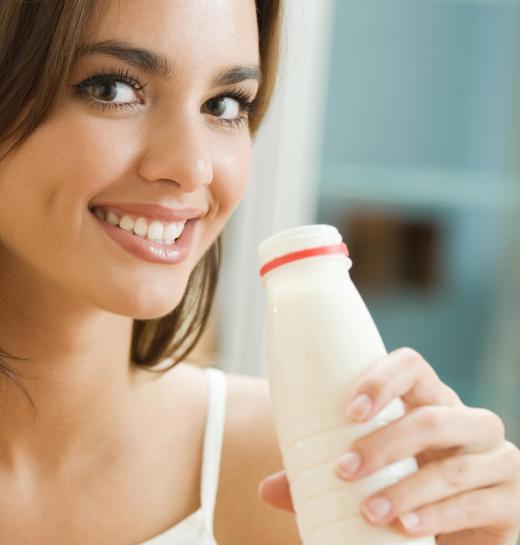 Cashew milk retains much of the nutrition of cashews, supplying users with beta-carotene, iron, potassium, niacin, calcium and other necessary nutrients. Cashews also contain essential fats and oils, carbohydrates, fiber and protein. The Food and Agriculture Organization of the United Nations suggests that cashews and cashew products, such as milk, might be beneficial in helping to prevent or minimize heart disease.
Cashew milk can be used as a dairy substitute in various recipes, such as muffins, bread, pudding and custard. While not everyone with allergies needs to replace milk in recipes, it is less likely to cause stomach upset and is often used as a way to avoid all dairy products. Since it can easily be made at home from a few cups of cashews, many people also find cashew milk more convenient than having to buy cow's milk.
AS FEATURED ON:
AS FEATURED ON:








By: Shariff Che'Lah

Cashews.

By: Marius Graf

Cashew milk.

By: vgstudio

Many people who drink cashew milk have certain dietary restrictions.