What Is Cashew Nutshell Liquid?
Cashew nutshell liquid (CNSL) or oil is a fluid that is extracted from the nutshell of the cashew nut. Containing a mixture of chemicals, this liquid is used in many industries as a raw material. The solid form of CNSL is utilized in the brake lining industry as friction particles, and the liquid is used in varnishes, waterproof paints, laminating resins, and foundry chemicals. Plasticizers, insecticides, and preservatives are some of the other substances that utilize this liquid.
A by-product of cashew processing, cashew nutshell liquid is obtained from the honeycomb-type structure between the layers of the shell. The irritating nature of this viscous liquid is the reason why the cashew nut isn't sold with its shell casing. If the oil comes in contact with human skin, it causes eye irritations, skin rashes, and burning sensations. This property of the the cashew nut is the reason why it was called the blister nut in earlier times. Its family tree includes close connections to poison ivy and poison sumac.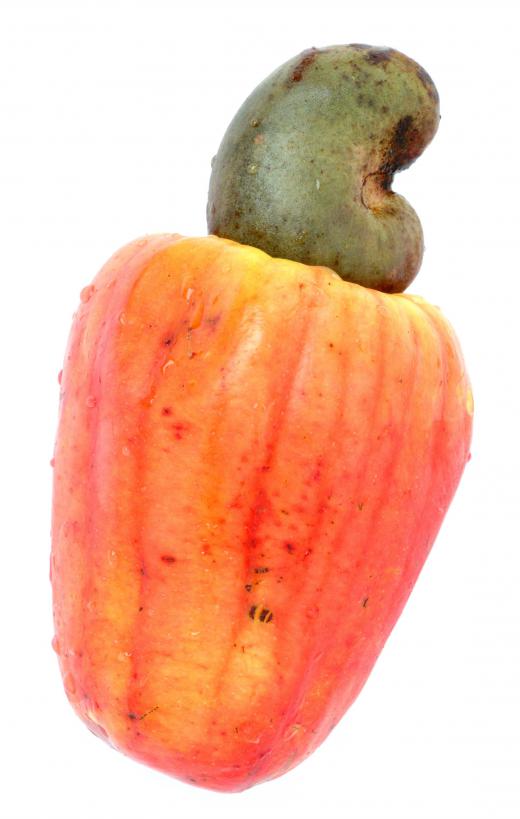 The shells must be processed with great caution, and most of it is still done by hand, causing shellers to suffer from blisters. Each nut is roasted, burned, and boiled, and then finally soaked and cracked to obtain the toxic oil. The liquid extracted contains a great deal of anacardic acids, which are useful in treating ulcers, acne, and tuberculosis. The industrial uses for cashew nutshell liquid came into play in the 1930s because it contains a number of unsaturated phenols and is a source of substances like cardol and cardanol.
When processed, the cashew nutshell liquid yields two end products mainly. The solids are pulverized to create a type of friction particle that is used as a brake lining in the automobile industry. The liquid is used to make phenalkamine curing agents, which have special properties. They are chemically active even at low temperatures and are used in epoxy coatings for the flooring industry. CNSL is a versatile liquid that offers a lot of scope for making tailor-made polymers.
Derivatives of cashew nutshell liquid are used as stabilizers, antioxidants, and processing aids for rubber materials. When added to rubber gum stock, it improves the mechanical and processing properties of the substance. It is also used as a demulsifying agent for petroleum products and as a modifier for plastic materials. Enamels, bakelite, cashew lacquers, and adhesives are some of the other products where CNSL is used in the manufacturing process. Many other possible applications of cashew nutshell liquid are being evaluated in the areas of diesel fuel substitutes, anticorrosive paints, lubricants, and chemical intermediates.
AS FEATURED ON:
AS FEATURED ON:








By: Vinicius Tupinamba

A raw cashew.

By: Shariff Che'Lah

Cashews.

By: Riverwalker

Cashew nutshell liquids are in the same family as the poison ivy plant.

By: marilyn barbone

Coming into contact with poison ivy may cause a red, itchy rash to appear at the contact site.

By: Rob hyrons

Contact with cashew nutshell liquid may cause eye irritation.

By: Yogesh More

The oils and nuts from the oriental, or Indian, cashew trees are believed to have medicinal qualities.