Cherry extract is a fruit extract made by soaking cherries in alcohol to draw out their flavor. The extract has a strong cherry aroma and flavor, and it can be used in a variety of ways. Various versions are also designed as dietary supplements, usually in the form of capsules which are designed to be taken with other vitamins, extracts, and minerals.
Both natural and artificial cherry extract are available. The artificial product is made with flavor compounds which are designed to resemble cherries, and it can have a syrupy or sweet flavor. Natural versions are made with real cherries, and they may be sweet or slightly sour, depending on which types of cherries are used to make the extract. In either case, whole fruit is used so that the flavors in the pits will also seep into the extract; people can also make cherry extract at home by covering cherries in a neutral alcohol like vodka and allowing them to soak for several weeks before straining the mixture.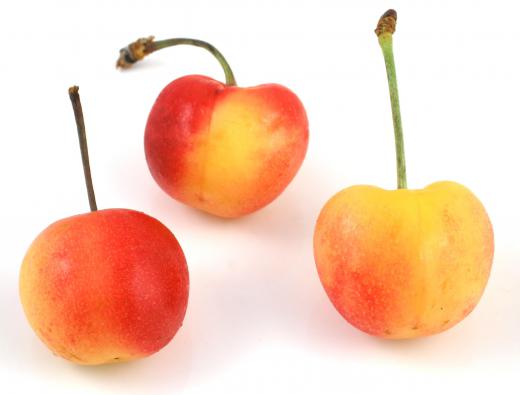 Baking is the one of the most common applications for cherry extract. This flavoring can be added to cakes, pies, muffins, cookies, and so forth, and it may also be used to make cherry icing. It can also be added to ice cream, milkshakes, and mixed drinks, and some savory recipes call for it as well. The slightly sweet, slightly tart quality of good cherry extract can complement a number of dishes, including roasts. People can also use it to flavor medications to make them more palatable
Like other fruit extracts, the alcohol in cherry extract burns off very quickly, leaving the flavor behind. Non-alcoholic versions are available for people who wish to avoid using alcohol products for religious or dietary reasons. These versions are typically artificial, and cooks may want to experiment with several brands to find the right flavor. If an extract is too sweet, it can be given a more tart note with fresh lemon or lime juice.
In terms of dietary supplementation, cherry extract is consumed for the antioxidants and other compounds present in cherries. These extracts are made with the goal of concentrating the nutritional benefits of cherries, rather than the flavor, and they tend to be rather lacking in excitement, flavorwise.
AS FEATURED ON:
AS FEATURED ON:








By: Harris Shiffman

Cherries.

By: dla4

Cherry extract can be made at home using vodka.

By: evgenyb

Cherry extract may be added to baked goods to enhance their flavor.

By: Jeppestown

Cherries are soaked in alcohol to draw out their flavor in the making cherry extract.