Chewing gum is a product made from natural or artificial latex, or chicle, as well as natural and artificial flavoring, that never breaks down when chewed. This allows people to satisfy their oral fixations without eating or smoking. Although chicle provides the best flavor and texture of chewing gum, it is rarely used anymore, as one chicle tree only yields 35 ounces (one kilogram) of chicle every three to four years.
The first marketed chewing gum, called The State of Maine Pure Spruce Gum, was made and sold by John B. Curtis, in 1848. Gum was first patented in 1869 by William Semple. In 1892 the Wrigley chewing gum company was established by William Wrigley, Jr., who made popular such flavors as Juicy Fruit, Doublemint and Wrigley's Spearmint. Since then, gum has been made in various flavors.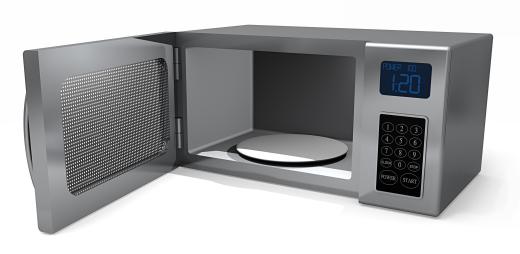 Common flavors of gum include mint, wintergreen, cinnamon and other fruity flavors, of which all are available sugar-free. The regular varieties of chewing gum are sweetened with either cane sugar, corn syrup or dextrose. Sugar-free varieties are sweetened with saccharine, xylitol or aspartame. An average stick of gum is 79 percent sugar or artificial sweetener.
Chewing gum is simple to make at home. All you need is a microwaveable bowl, citric acid, corn syrup, powdered sugar, flavoring, glycerin and gum base. Popular flavorings are peppermint oil, cinnamon and vanilla. Most of these are sold at a regular grocers, except glycerin and gum base, which you can find at a craft store.
Stir together 1/3 cup (78.86 ml) of gum base, 1/4 tsp. (1.23 ml) citric acid, 1 tsp. (4.92 ml) glycerin and 2 Tbsp. (29.57 ml) corn syrup in the microwaveable bowl. Place in the microwave for a minute. While it is microwaving, spread powdered sugar on a cutting board, leaving an empty area in the center. Set aside some powdered sugar for dipping your finger.
Take out the gum base and stir in approximately 6 drops of flavoring. Empty the mixture from the bowl and drop it onto the cutting board. Knead it in the powdered sugar for at least 20 minutes. If your hands or the mixture feels sticky, add more powdered sugar. The longer it is kneaded, the stronger the gum will be.
Flatten the mixture out with a rolling pin. Roll the flattened gum base into the shape of a rope. Cut it into standard-sized pieces with kitchen shears. Use wax paper, cellophane or a plastic bag to store the gum when it is finished.
AS FEATURED ON:
AS FEATURED ON:








It's possible to make chewing gum at home with a microwave.

By: blende40

A stick of chewing gum.

By: vlorzor

A pack of chewing gum.

By: Jonathan Vasata

Sorbitol, which is often included in chewing gum.

By: Vuk Vukmirovic

Bubble gum is a popular type of chewing gum.

By: nyul

Chewing gum is made from artificial latex which allows it to stay together under the pressure of chewing.