What Is Chicken Francese?
Chicken Francese is a dish consisting of battered chicken that is fried in a skillet and then topped with a lemon sauce. The recipe is similar to several Italian dishes, and has a French-sounding name, but it is thought that Chicken Francese originated in New York City. The meat is pounded thin, dredged in flour, dipped in egg, and then coated with flour again before being placed in a hot skillet. A simple sauce, with the strong flavor of lemon, is prepared in the same skillet that the chicken is cooked in. Lemon slices or wedges usually garnish the dish.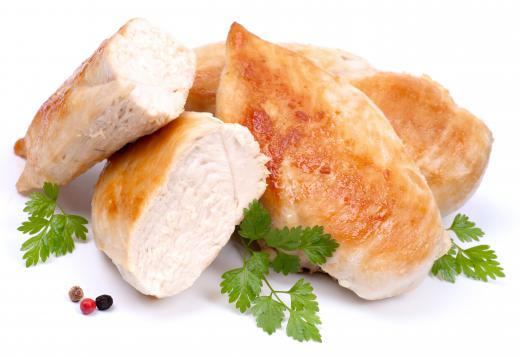 Chicken breasts are typically used when preparing Chicken Francese. If the breasts are very thick, they may be cut in half. Tendons or extra fat are removed from the meat. To keep it tender, and to make the cooking time shorter, the chicken is usually pounded until thin. This can be done by placing the chicken breast between two sheets of plastic wrap and using a kitchen mallet to flatten the meat.
After the chicken is properly prepared, it is battered. This is done by first dredging the meat in flour, followed by dipping it in an beaten egg wash, and then covering it with flour again. The flour can be seasoned with salt and pepper to give the chicken extra flavor.
The battered chicken is then cooked in oil in a hot skillet. Olive oil is often used, but other types of oils, such as canola or vegetable oil, may be substituted. Each side of the chicken should be brown and slightly crispy. When the chicken is fully cooked it is removed from the pan, and covered to keep it warm.
The sauce for Chicken Francese is usually made in the same skillet that the chicken was cooked in. Its main ingredients are chicken broth, butter, lemon juice, and salt and pepper. Some recipes call for the addition of white wine or vermouth, but these ingredients are optional. The components of the sauce are added to the pan and brought to a slight boil before lowering the heat. As the sauce simmers it thickens.
Chicken Francese is served by pouring the sauce over the crispy chicken breasts and then garnishing the dish with fresh lemon. This is a versatile recipe that pairs well with many side dishes, such as pasta, rice, mashed potatoes, or vegetables. For the best results, the chicken should be served immediately after it is done cooking.


By: fkruger

Chicken broth is a main ingredient in Chicken Francese sauce.

By: Christian Jung

Chicken breasts are typically used in Chicken Francese.

By: al62

Flour seasoned with salt and pepper gives Chicken Francese extra flavor.

By: tycoon101

Chicken is often cooked in olive oil when preparing chicken Francese.