Coulis is a French sauce which can be sweet or savory, depending on what it is meant to accompany. The term is also used to refer to the rich juices which flow from meats while they are roasting. As a general rule, coulis is thick and evenly textured, and it can be made from fruits or vegetables. Many stores sell it in pre-packed containers, and the sauce is also very easy to make at home. Using coulis can enhance the flavor of food, as well as making it look more sophisticated on the plate.
The word is French for "strained liquid," and it is derived from colare, the Latin word for "strain." Many fans of French cuisine are familiar with coulis, since it is added to a wide range of dishes from roasts to dessert cakes. The sauce is also used in fusion cuisine and fine dining establishments, especially by cooks who have been classically trained.
The base of coulis is a fruit or vegetable. Fruits are generally used uncooked, while vegetables may be roasted, blackened, or simmered so that they soften. The base is pureed so that it is creamy and smooth, and then it is usually seasoned. After seasoning, the coulis may be strained to remove things like seeds or chunks of skin. The sauce may be artfully drizzled on a plate, or pooled next to the food. In some cases, multiple types of coulis appear on one plate, for varying flavors and colors.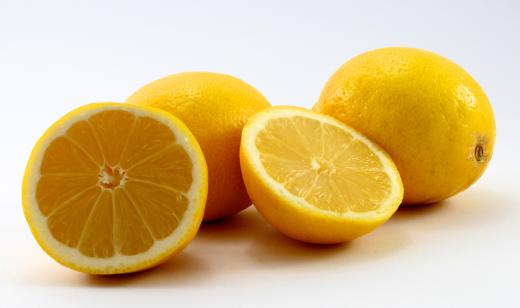 Fruit coulis often accompanies desserts. One of the most classic kinds is a berry coulis, especially raspberry. Fruits are usually lightly seasoned with sugar and lemon juice, to bring out the flavor of the fruits so that they enhance the dishes they are added to. Savory fruit coulis may also be made for things like roasts. Herb-based sauces are also not unheard of, and mint coulis often accompanies roast lamb.
Vegetable coulis can include any number of things, although roasted pepper or tomato are two common ingredients. This type is often more savory, and it can be quite colorful. It can be drizzled over roasts, poured into soups to make patterns, or used in any number of other ways to dress up and flavor a dish.
In many cases, coulis can be frozen for future use. Some people also like to keep it around in a squeeze bottle, so that it can be quickly applied when needed. As a general rule, it should be used within a few days if it is not going to be frozen.
AS FEATURED ON:
AS FEATURED ON:








By: M.studio

Strawberry fruit coulis pooled around a dessert.

By: Britta Laser

Lemon juice is often used to enhance the flavor of fruit in fruit coulis.

By: Nikolai Sorokin

Bananas, which can be used to make coulis.

By: margo555

Mint coulis often accompanies roast lamb.